New Chapter - Bone Strength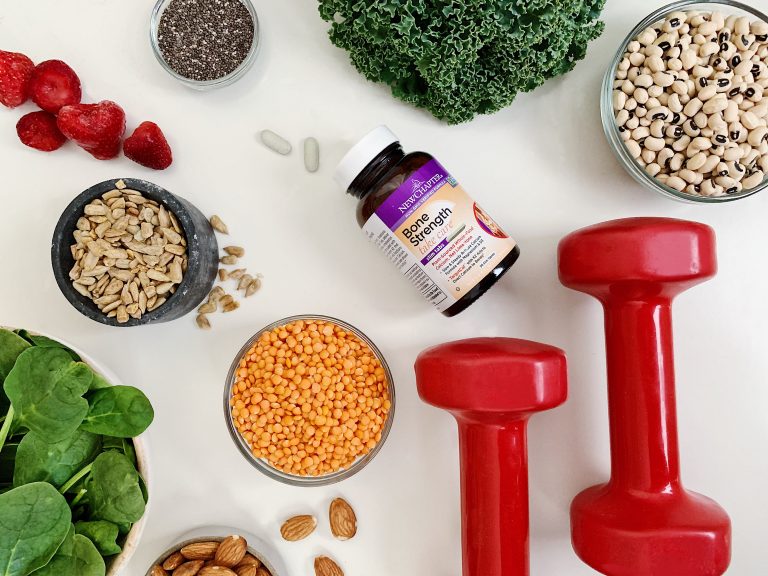 New Chapter's Bone Strength is composed of plant based Calcium. In its pure form, Calcium is a silvery metal, and it is the 5th most abundant element on the planet. It's also abundant in the human body. Why is calcium so very important? Well, our bodies use calcium to aid in normal muscle and nerve function, blood clotting, cellular health, and the release of certain hormones. Calcium is even required for a normal heartbeat! Given this vital role, the body keeps calcium in the bloodstream at all times, and our bones and teeth act as a handy storage bank for calcium. And when blood calcium levels are low due to dietary intake, calcium is taken from our bones and used by the body—which can affect bone strength. Replacing lost amount of calcium on a daily basis is essential to maintaining normal calcium levels in bones.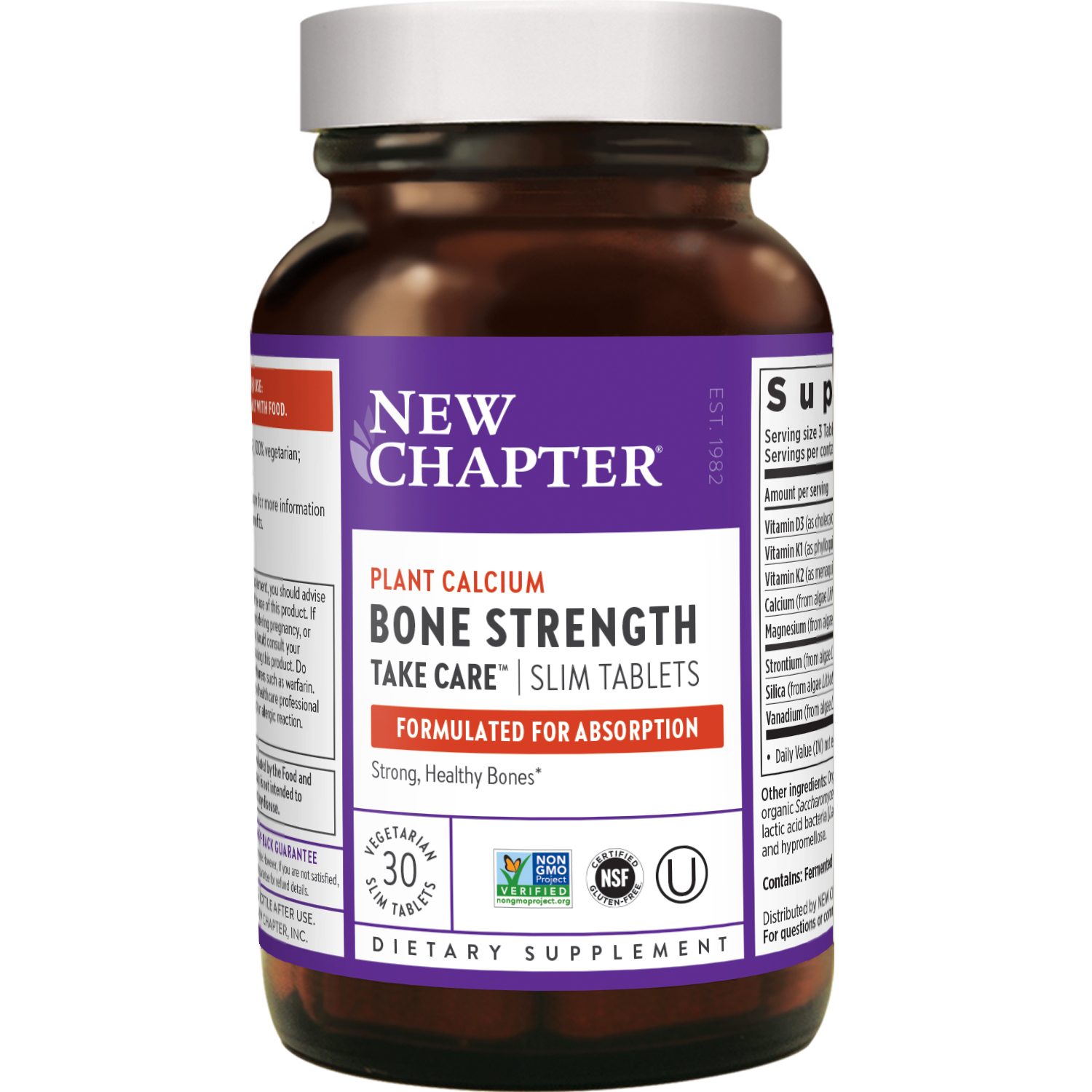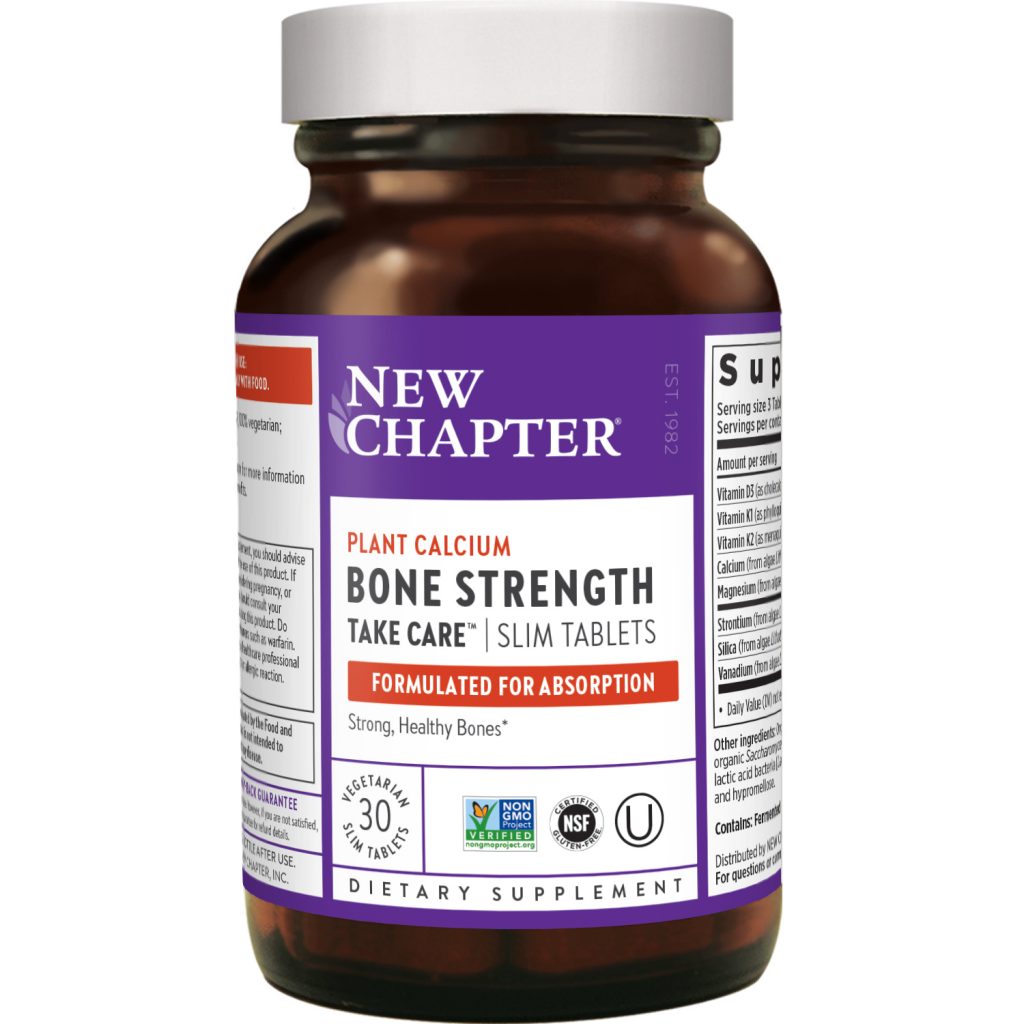 Our bodies understand and seek whole-food sources of nutrition. New Chapter Bone Strength Take Care is formulated with a wild, Organic whole-food plant source that is rich in available calcium, along with magnesium and 70 other important trace minerals. New Chapter adds an exclusive blend of Vitamins K2 and D3 to ensure the body absorbs the plant-based calcium properly and effectively.
†Adequate calcium throughout life, as part of a well-balanced diet, may reduce the risk of osteoporosis.
*These statements have not been evaluated by the Food and Drug Administration. This product is not intended to diagnose, treat, cure, or prevent any disease.
Daily recommendations for adults vary slightly. View the list of general calcium recommendations is from the National Institutes of Health.
In general, adults get some of their recommended daily calcium from food. But many people may not be getting enough. You can make sure you're getting adequate calcium intake by adding a calcium supplement to your day. (Talk to your healthcare professional with questions about the best calcium regimen for you.)