No one really wants to eat junk all the time and serve junk food to their family. Cleaning up one's diet seems to be an omnipresent goal among adults in the US. It can be difficult to do and time-consuming. A common complaint is that eating healthy is too expensive for most people. While it can be daunting to try to decide which healthy substitutes will work for your family and your budget, it will greatly simplify the task to learn a few tricks before heading to your nearest organic grocery store.
Pay Attention to the Dirty Dozen
When choosing produce there are many things to consider before you cook and serve them to your family. Your best produce choices are always going to be locally grown and in season, which gives you a chance for the best tasting produce and a way to check on the habits of the farmer who grew your food. Plus you are supporting your local economy. Farmer's markets are an excellent way to accomplish these things, but there are many natural foods stores in Pembroke Pines who carry locally sourced produce every day of the week.
When it comes to choosing between organic and traditionally grown produce, for those on a budget, paying attention to the 'dirty dozen' can make the biggest difference for your family. The dirty dozen are those foods that contain the most chemical and pesticides when grown conventionally, these are the foods you want to concentrate on buying organic and locally as much as possible The foods are: Strawberries, spinach, nectarines, apples, peaches, pears, cherries, grapes, celery, tomatoes, sweet bell peppers, potatoes. When weighing the cost between organic vs non-organic, these are the foods worth spending the extra cash.
Prepare More Veggie Centered Meals
Another quick way to aid your budget when eating healthy is to concentrate your meals around fruits and vegetables, using meat as a side or omitting meat entirely. A fun way to do this with the family is to institute weekly or bi-weekly meatless days and experiment with all the fun dishes you can have without meat. Getting kids involved in the planning, shopping, and cooking ensure that they will want to try the finished products. There are many resources available for finding healthy new recipes to try, such as the health foods stores near you.
Recipe: Zucchini Squash Bake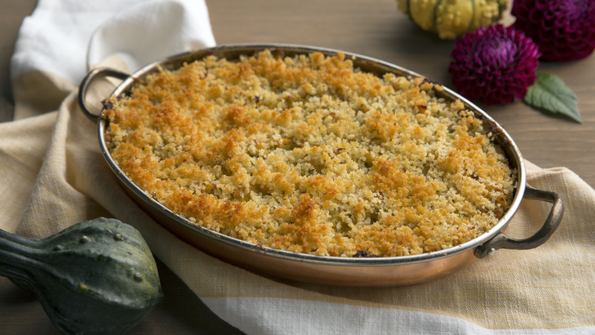 Recipe credit: Carsen Snyder
Photo credit: Jennifer Olson
This Zucchini Squash Bake makes for delicious comfort food, your family won't miss the meat! Gluten-free and vegetarian, it's chock full of nutritious zucchini plus protein-rich ricotta. Be sure to check out more recipe options at Delicious Living.
Ingredients:
1 small (about 2 pounds) kabocha, red kuri or delicata squash
½ tablespoon olive oil
⅛ teaspoon plus ½ teaspoon salt, divided
1 small zucchini, grated (about ½ cup)
⅔ cup ricotta
½ cup grated hard cheese, such as Fontina, Emmental, Gruyère or non-aged Gouda
1 tablespoon chopped fresh parsley
1 teaspoon chopped fresh thyme
½ teaspoon ground black pepper
1 egg (beaten)
½ teaspoon ground nutmeg
1 tablespoon fresh lemon juice
FOR THE TOPPING
½ cup breadcrumbs (regular, gluten-free or panko)
1 tablespoon butter (melted)
1 tablespoon olive oil
¼ cup grated Parmesan cheese
Directions:
Preheat oven to 400°. Cut squash in half lengthwise, and scoop out seeds. Drizzle oil and 1 /8 teaspoon salt over cut side of squash halves. Place squash, cut side down, on a parchment-lined baking sheet. Cover squash loosely with aluminum foil, and bake for 45 minutes. Once cooked, remove foil and let the squash cool slightly.
In a large bowl, place grated zucchini, ricotta, grated cheese, parsley, thyme, pepper and remaining ½ teaspoon salt; stir to combine. Mix in beaten egg and nutmeg; set aside.
In a separate bowl, toss bread-crumb ingredients together; set aside.
Once squash is cool enough to handle, scoop the flesh into a bowl and add lemon juice; mash with a potato masher until smooth. Gently fold ricotta cheese mixture into squash until combined.
Grease a 2-quart round baking dish, and reduce oven temperature to 375°. Scoop squash mixture into baking dish, and top with bread-crumb mixture. Bake until topping turns golden brown in spots, about 25–30 minutes. Remove from oven, and allow to rest 5 minutes before serving.
PER SERVING (1 cup): 193 cal, 11g fat (4g mono, 1g poly, 6g sat), 57mg chol, 418mg sodium, 16g carb (3g fiber, 5g sugars), 10g protein
Be Creative and Adventurous!
Food should be fun! It is a dominant form of socializing and a big part of every culture. Eating healthy doesn't have to break the bank, nor does it have to be boring. Regular trips to the organic grocery stores near you can open you up to a whole new world of fruits, veggies, and healthy foods to try! The staff of the organic groceries in Pembroke Pines can give you cooking tips, show you what is newest and freshest, and clue you into the local food vibes of your town.