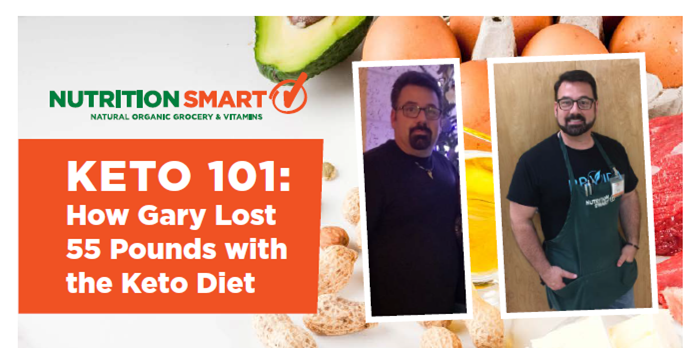 Greetings from Nutrition Smart! My name is Gary Kyle and I've decided to take responsibility for my weight gain. Here is my Keto story.
I have been in the health food industry for 40 years and have worked at many stores throughout the years; I would like to think that I am one that is very versed in health and product knowledge. I have learned even though we may have all the knowledge and tools at our fingertips as everyday stress and strains of everyday life happens and while others may become a priority we forget to focus on our own health, so was my case.
This is not something where I woke up one day and my weight had magically shown up. It was a progression. The day I realized that I needed to change and assume responsibility, was the day I was tying my shoe and couldn't breathe while trying such a simple task. It hit me hard. That day I said to myself, "this is the day I start". I had blossomed to the heaviest I have ever been.
I knew about the benefits of Keto but had never tried it. So, with some research I decided to give Keto a try. Giving it 100% and not cheat or fall off the wagon.
I try to meal plan for the week, which makes it really easy for me to grab and go. I started taking all the Keto supplements taking them every day and eating and following Keto diet plan, doing the fasting and keeping in mind to take it one day at a time, going into my first week I really started to notice my weight begin to drop. Once you get into Ketosis you will your taste buds will go to Savory and really no longer crave any sweets. This really sparked a real desire to stay diligent and continue with the plan.
I do not go to the gym and workout.
It has been 3 months and I have lost a total of 54LBs to date my goal is another 25LBs. stay tuned for further updates…
Keto Update
I actually got off Keto and during 2020 amidst the worries of COVID-19, I put on a COVID-20. 20 lbs. that is also the reason I had stopped Keto because I was developing Kidney Stones which I thought was from the Keto Diet. I have narrowed it down to the amount of Spinach, Kale, Almonds, and extreme amounts of Calcium Oscillates in the food I was eating. So now I will be regrouping myself to a modified Keto Diet that does not contribute to the production of Kidney Stones. Yes, 2020 was very tough on many of so it's not uncommon even for people to gain weight during stressful times. I once again am dedicating my days to a Keto lifestyle modified.  I will be tracking my progress and findings on social media. I welcome any input to discuss your story as well. Helping one another and totally encouraging each other will keep us on a more enjoyable journey to Keto Wellness.
ABOUT KETO
In the beginning

Beginning Keto- originally created in 1921 to help children support brain health. Designed to replicate the results of fasting. It tricks into thinking its fasting by severely limiting the amount of glucose consumed. There are many benefits to this diet. Decreased Body Fat, Healthy Cholesterol, Blood sugar levels.
Today I'm going to talk about Keto diet with a busy life. I know my life in all consumed with work, daughter, competition dancing, charity events, and caretaking for my parents, plus anything that comes my way. This was the easiest diet and healthiest I have found. It actually becomes a no brainer once you've begun and commit to the life style.
Once we have become honest with ourselves and commit to a healthier lifestyle our journey can begin. Starting with a Macro manipulation, restricting intake of glucose will cut off glucose supply to cells and ultimately force your body to burn fat for fuel.

Benefits

How do I know I'm in ketosis? I get that question a lot. The best answer is to get test strips. They will tell you if you are in ketosis or at what level you are at. It's a great tool to help you monitor your levels of ketones
Ketones increase during the fasting times. Our body stores only 24 hours' worth of glucose and is incapable of creating more. When the body doesn't have glucose to burn for energy it turns into burning fat which creates ketones in the body.
This process proved to be less cumbersome on the brain. Resulting in healthy brain function, greater overall healthier. I feel it a great way to lose weight and body fat in a healthy way
Ketoacidosis: It is rare but dangerous for diabetics. Ketones get too high causing blood to become acidic.
Ketone: Organic compound that is a carboxyl group bound to 2 hydrogen groups made by oxidizing secondary alcohols the process is known as beta oxidation: ketones then are used for energy
Diet

Is keto diet new? Is it just a fad? I explain to people no it's not new, and no it's not a fad. I think it's being revived and people are taking responsibility for their health. It's going to be around for a long time.
Maintaining weight loss? Once you have gotten to your desired goal, it's just a matter of not going back to the lifestyle that took you there. Keto can be used long term ad it will maintain your weight to a healthy level.
Monitoring your weight and progress. I'm guilty of checking my weight in the beginning sometimes twice daily. And would get so mad at the scale because it just knew it was lying. Id gain 3 lbs. and I know was strict and doing all the right things then by the nest day it started dropping again. I have found checking weight every 3 day is the best so you don't drive yourself crazy

Artificial and natural sweeteners

While on Keto diet, artificial sweetener is a no-no on this diet" now don't feel bad about that cause even a certain natural sweetener is not allowed like sugar, turbinado honey ext. instead stick to stevia, monk fruit and erythritol. These work perfectly with the Keto diet
Meal planning for Keto: meal planning and prepping is awesome. It takes me about 3 hours on a Sunday to plan, cook a put into al my containers and put I the fridge.
After that the whole week is grab and go. It's all done and ready to go. Can't get easier than that.
When you want to quit or feel helpless.
I was defiantly there in the beginning. I was on the diet for 32 weeks and barely saw any weight loss. I was very discouraged but then it started to come off little by little. And I kept me motivated.
My son: he's been a real inspiration for me through this process. My son was huge gamer played games ate a lot of junk food and went to school. He ballooned up to 238 lbs. Today through Keto and healthy eating he is now 128 lbs. and look great. This has kept me going on my own journey so I myself can achieve my goal.