Special events tend to be the pitfall for any new diet plan. So much emotion is associated with food at parties that it is hard to resist the temptations of fatty finger foods and glorious cake. It is even more difficult to attempt to plan a party around a healthy new diet plan. There are a lot of decisions to be made before you make that trip to the grocery stores near you. Do you cater to your guests and ruin your diet? Will your guests enjoy your food if they are healthy and different from those they would traditionally expect? Where do you find delicious recipes for healthy party food?
Healthy Choices that are More 'Traditional'
Before you go down the rabbit hole of new and unfamiliar recipes, first consider if there are dishes that you would usually offer that are already healthy or can be tweaked to make healthier. This gives you and your guests something familiar to eat and keeps you from derailing your diet altogether. For instance, the perennial favorite of children, Dirt Cups can be made substituting Greek Yogurt for the pudding and using organic cookies and gummy worms. The health food stores in Pembroke Pines carry a wide variety of organic, low sugar, and all around healthier snacks that can be made into great party food. Finger foods such as fresh veggies, dips, and fruit salads are healthy choices that are always beloved by party guests.

Recipe credit: Carsen Snyder
Photo credit: Carsen Snyder
Pizza is an ever-popular favorite party food! Serve this healthier variety of pizza, with the unique zing of pesto for the utter delight of guests young and old! Save even more time by buying precut vegetables at grocery stores near you! Find more recipes for your new healthier life at Delicious Living!
Ingredients:
• ⅔ cup thinly sliced red onion (about ½ onion)
• 2 cups small broccoli florets
• 8 ounces sliced button mushrooms
• 2 tablespoons olive oil
• 4 ounces premade basil pesto, such as Cucina & Amore or DeLallo Simply Pesto
• 2 thin pizza crusts (10–12 inches each), such as Angelic Bakehouse Flatzza, Against the Grain Gourmet (GF) or Rustic Crust
• 4 ounces buffalo mozzarella cheese, sliced
• 1 cup bottled roasted red pepper strips, drained
• 1 cup arugula
• Balsamic vinegar, for drizzling
Directions:
1. Preheat oven to 450°.
2. In a medium bowl, toss onion, broccoli, mushrooms and olive oil. Set aside.
3. Divide and spread pesto evenly on both crusts, leaving a ½-inch border. Place half of the mozzarella on each pizza. Evenly distribute roasted red peppers and onion-broccoli mixture over pizzas.
4. Place both pizzas on baking sheets or pizza stones. Transfer to oven, reduce heat to 425° and cook for 10 minutes. Turn on broiler and continue to cook for another 2 minutes, until veggies and cheese are browned (watch carefully).
Remove pizzas fro 3 cal, 40g fat (18g mono, 13g poly, 9g sat), 22mg chol, 750mg sodium, 49g carb (10g fiber, 10g sugars), 19g protein
Make Something New and Exotic
Don't be afraid to toss a few new or unusual choices into your party menu. A lot of people find new food adventures to be exciting and will make your party more memorable. Peruse that fresh fruits and vegetables at your organic grocery stores near you, simply adding multi-colored carrots or some dragon fruit to a tray will garner the attention of your guests.
Fresh Cherry Tart with Cocoa Crust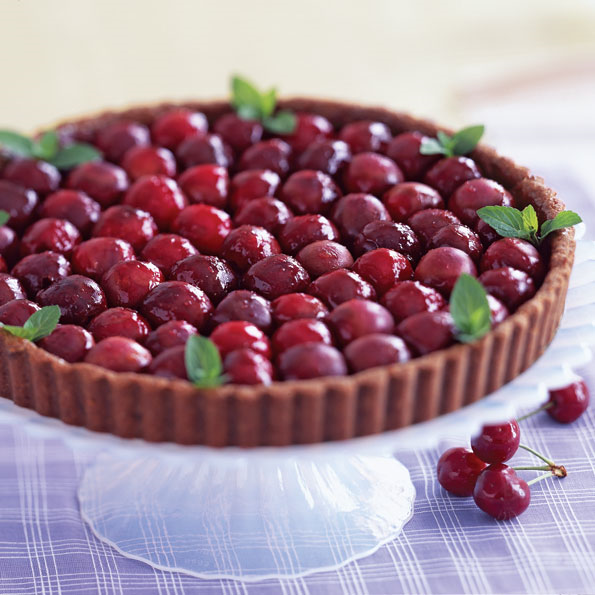 Recipe credit: Karin Lazarus for Delicious Living
A unique twist on a traditional birthday cake and a fruit-filled treat for chocolate lovers, this tart uses date sugar, coconut oil and whole-wheat pastry flour for a healthier take on a classic summer dessert. You can try this with ripe, fresh-sliced plums, too. All of these ingredients should be available at a health food store near you! Find more delicious and health conscious desserts at Healthy Living!
Ingredients:
● 1/3 cup date sugar
● 1 1/4 cups whole-wheat pastry flour
● 2 tablespoons packed cocoa powder
● 1/3 cup coconut oil
● 1/8 teaspoon salt
● 2 egg whites
● 1 teaspoon vanilla extract
● 1 1/2 pounds fresh Bing cherries (pitted)
● 4 ounces bittersweet chocolate
● 2 tablespoons canola oil
● 1 teaspoon vanilla extract
● 1 tablespoon Citrus Glaze, warmed (see link at right)
● Mint leaves, for garnish
Directions:
1. In a food processor, combine sugar, flour, cocoa, oil, and salt. Process 15—20 seconds, until mixture looks like wet sand. While machine is running, add egg whites and vanilla extract; process until mixture forms a ball. Press into a 10-inch tart or springform pan and 1 inch up the sides. Freeze for 20 minutes, then bake at 350° for 20—25 minutes.
2. While crust is baking, place cherries in a large saucepan over medium-low heat. Cook for about 5 minutes or until juices begin to release. Cool.
3. Melt chocolate and canola oil in a bowl over simmering water. Stir until smooth, remove from heat, and stir in vanilla extract. Spread over hot crust.
4. Beginning at the outside edge, place cherries in a circular pattern, packing them closely together. Brush with glaze. Garnish and serve.
PER SERVING: Serves: 12 people. Calories per serving: 227
Citrus Glaze
Ingredients:
● 3/4 cup fresh orange juice
● 1/4 cup fresh lemon juice
● 3/4 cup honey
Directions:
1. Combine 3/4 cup fresh orange juice, 1/4 cup fresh lemon juice, and 3/4 cup honey in a small saucepan.
2. Bring to a boil, stirring constantly.
3. Reduce heat to low; simmer for 20–25 minutes.
4. Skim off foam. Refrigerate; warm before brushing or spritzing onto tarts. Makes 1 1/4 cups.
Healthy Eating Doesn't have to Stop for Parties!
With just a few tweaks and a stop at your local organic health foods store, and you are well on your way to a healthy food filled birthday party! Party food doesn't have to lack nutritional value to be tasty and popular with your guests!