After a long winter, spring has finally arrived! With the promise of sunny summer months ahead, now is the time to enjoy the outdoors with fun activities. And one of the best ways to do this is to have outdoor cookouts! Soak up the sun, spend quality time with family and friends, and enjoy healthy, delicious foods that you can purchase at organic grocery stores such as Nutrition Smart.
With seven convenient store locations throughout Florida, we are proud to offer our customers healthy, natural, and organic foods, as well as high-quality pure vitamins and supplements. We always strive to bring you the newest and most advanced products that promote good health and nutrition. At our Pembroke Pines vitamin store, as well as at all other locations, you will find the best of produce and health and beauty products all under one roof. For a healthy spring cookout, you can find all you need at any one of our store locations. And since everything is natural, organic, and affordable, you are able to take good care of yourself by eating the best.
Even with the best of intentions, it is sometimes easy to end up with bad eating habits. But following some healthy tips for a cookout, or even for your everyday meals, you can eat healthy yourself, as well as provide healthy options for your guests. Here are a few tips for healthy spring cookouts.

Tip #1: Pile on the fresh produce — Now is the perfect time to eat seasonal fruits and vegetables that you can find in abundance. Pineapple, mangoes, bell peppers, asparagus, watermelon, tomatoes, and onions are some great choices that are not only healthy but are colorful and look appetizing.
Tip #2: Limit the condiments — With fresh produce that is delicious on its own, you really do not need to add sugary, spicy, or fatty sauces. Try to omit as much of the mayonnaise, sugary barbecue sauces, and cheese as possible. In place of these, you could consider using mashed avocados, fresh salsa, non-fat Greek yogurt, and fresh herbs.
Tip #3: Hydration is healthy — Instead of including alcoholic drinks at your cookout, opt for non-alcoholic and healthy beverages such as flavored water, fresh fruit and vegetable juices, and unsweetened iced tea.
Tip #4: Choose lean meats — There is no place for greasy cheeseburgers and hot dog buns at your healthy cookout. A better idea is to make kebobs from pieces of lean meats, veggies, and fruits. These are versatile and easy-to-eat! Lean choices of proteins include turkey, chicken, and seafood.
Tip #5: Include fun activities — You may have time to kill when you grill and wait for the food to cook. Including fun activities would prevent people from getting bored and also help them to work up an appetite by participating in a game of Frisbee, soccer, football, horseshoe, etc.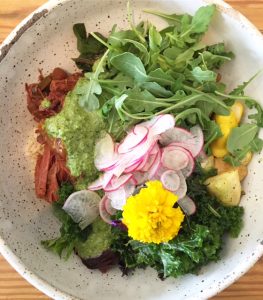 Tip #6: Include a variety of healthy side dishes and salads — Even though we love indulgent comfort foods brimming with fats, the healthier options can be just as satisfying. Visit Nutrition Smart, the best health foods store Pembroke Pines has, to find the freshest seasonal organic produce that is bursting with natural flavors. Some ideas that you may think about are a simple heirloom tomato salad with varieties of fresh tomatoes, mozzarella balls, lemon juice, and fresh herbs. And dessert doesn't have to be heavy and creamy either. A strawberry rhubarb galette is an easy flour and cornmeal crust filled with a delicious strawberry rhubarb filling. This is healthy, easy to make, and delicious at the same time! Choices for great side dishes include baked tortilla chips with a zesty corn and black bean salad, whole wheat pita with olives and hummus, and veggie chips instead of fried chips.
Tip #7: Pay attention to those dips, sauces, and marinades — While you may pick lean meats and fresh vegetables and fruits for your cookout, all these can easily go from healthy to unhealthy with the wrong choices of dips and sauces that you use with them. Eating slices of grilled vegetables with a heavy cheese sauce or ranch dressing is not necessarily a good idea. A healthier option would be to use hummus or a simple lemon and olive oil dressing. Similarly, lean cuts of meat can be marinated in marinades that include lemon juice and vinegar rather than heavy sauces and sugary syrups. A good steak, for example, needs nothing more than some sea salt, pepper, and minced garlic to bring out maximum flavor.
With warmer temperatures and lush, natural beauty in the springtime, all you need are light, flavorful foods to feel satisfied. Those stick-to-your-ribs heavy meals can be left for the long winter months. So just search for "health food stores near me" and come into Nutrition Smart to shop for your healthy springtime cookout.