Meatballs
Meatballs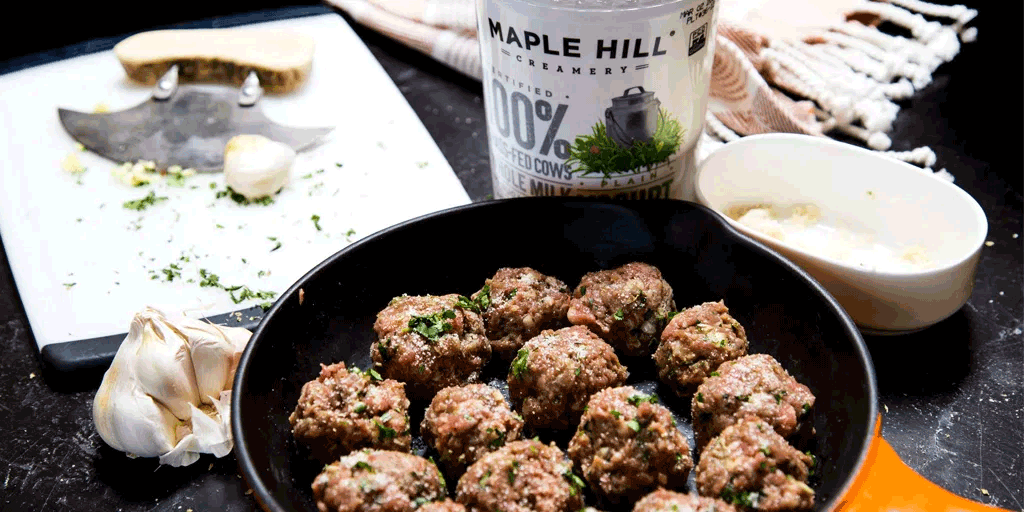 Recipe: Lamb Meatballs with Yogurt Mint Sauce – 25 min, 3 servings
Lamb Meatballs
• 1 1/2 pounds ground lamb
• 1 egg
• 2 garlic cloves, peeled and minced
• 1/4 cup fresh parsley, chopped
• 1 Tbsp dried oregano
• 1 tsp salt
• 1 Tbsp flour (use GF flour for a gluten-free dish)
Mint Yogurt Sauce
• 2 cups Maple Hill Creamery organic yogurt
• 3 Tbsp California Olive Ranch extra virgin olive oil
• 1/3 cup each: basil, mint, cilantro
• 1 small lemon, juiced
• 1 garlic clove, peeled and minced
• salt and pepper to taste
Instructions
1. Preheat oven to 425° F (220° C). Combine lamb, egg, garlic, parsley, oregano, salt and flour into a bowl. Mix until evenly combined and roll into 10-12 small meatballs. If meatballs appear to fall apart, add an additional egg.
2. Place meatballs onto lightly oiled baking sheet or parchment paper. Bake for approximately 20-25 minutes or until golden brown on the outside.
3. While meatballs are cooking, make the Mint Yogurt Sauce. Place yogurt, olive oil, herbs, lemon, garlic and salt into blender or food processor. Blend until smooth. Salt and pepper to taste.
4. Serve meatballs with yogurt sauce drizzled on top or on the side for dipping.