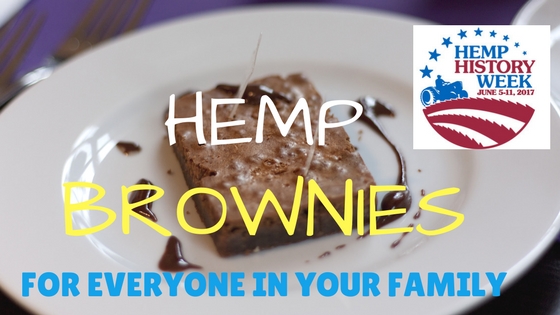 Hemp History Week is the largest, national grassroots effort to restore strong support for industrial hemp farming in the United States. Nutrition Smart proudly supports Hemp History Week and encourage everyone to come visit our stores June 5th – 11th to check out some fun literature, swag, samples and more.
In honor of Hemp History Week we wanted to share our favorite Hemp Brownies. Don't worry moms and dads, these aren't the brownies we had in college. These are safe for kids, grandpa, abuela, tia and everyone else.
Ingredients:
1/4 cup plus 1 teaspoon of coconut oil (we love Jarrow's and Garden of Life's coconut oil but any will work)
1 cup (packed) soft medjool dates, pits removed (about 10 or 11 dates)
1 cup hemp milk (Pacific's hemp milk is awesome) or you can use any nut milk of your choice
1 tablespoon vanilla extract
1 1/2 cups rolled oats
1/2 cup wheat flour
3/4 teaspoon baking soda
1/2 teaspoon salt
1/3 cup dark chocolate, finely chopped
1/4 cup cacao nibs
1/3 cup hemp seeds
1 tablespoon chia seed powder
Preparation:
Preheat over to 350 degrees Fahrenheit. Lightly grease a baking sheet with 1 teaspoon of coconut oil.
In a small saucepan, melt the remaining coconut oil into a liquid, then pour it into a food processor. Add dates, hemp milk, vanilla extract, and chia powder. Blend until a smooth paste has formed.
In a large bowl, mix together the oats, flour, baking soda, salt, and hemp seeds. Stir in the date mixture and mix well. Fold in the chocolate and cacao nibs.
Spread the mixture onto the prepared baking sheet, forming it into a rectangle about 1/2 an inch thick. Cut the wet dough into about a dozen rectangles.
Bake for 12-15 minutes. Let cool, then separate the rectangles and serve.
Thank you to Julie Morris, Alexandra Jamieson and the rest of the amazing crew at Hemp History Week for sharing this recipe and all that you do.