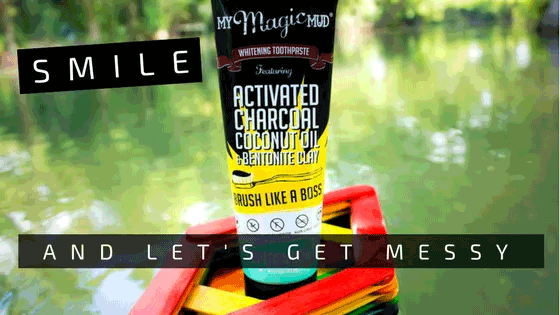 G'day from down under! Today I want to discuss the benefits of using activated charcoal to brush your teeth. I know it sounds crazy–black charcoal all over white teeth? Don't get me wrong, it looks crazy when you do it. Picture that trick gum that we used to give our friends in middle school–that gum that would turn your mouth completely black, and you'd have no idea. This is basically the same thing, except now you're actually whitening your teeth, amongst a bunch of other benefits. I've been using two brands, My Magic Mud and Heritage Stone, and am loving them both. Fair warning: don't expect the kind of strong minty flavor like that of Crest or Colgate. Instead, these have a more subtle mint flavor–but these amazing benefits will make you forgive that:
Whitens teeth through the absorption of plaque and microscopic stainers, which adhere to the porous surface of the charcoal.
Promotes good oral health by changing the mouth's pH balance, which in turn helps to prevent cavities, bad breath and gum disease.
Doesn't contain any harmful ingredients found in more conventional toothpaste brands, like sodium fluoride, propylene glycol, sodium laurel sulfate and harmful petroleum-based dyes.
Contains minimal ingredients that work together and result in an ultra-fine texture that is gentle on enamel.
My Magic Mud comes in a powder form as well as in a toothpaste blend, while Heritage Stone comes solely in toothpaste. However, either way works great. I would recommend the powder form to be used while in the shower, as it can be a bit messier, while the toothpaste can be used as normal. Be warned: using activated charcoal to brush your teeth can be a bit messy. Be sure to wipe down your sink/shower after use, as it can stain. But don't let this deter you from trying this new trend: a simple rinse can remove any excess mess. And if that won't convince you, I promise your friends will love the Snapchats of you with a mouth full of black teeth!
Until next time,
Lauren