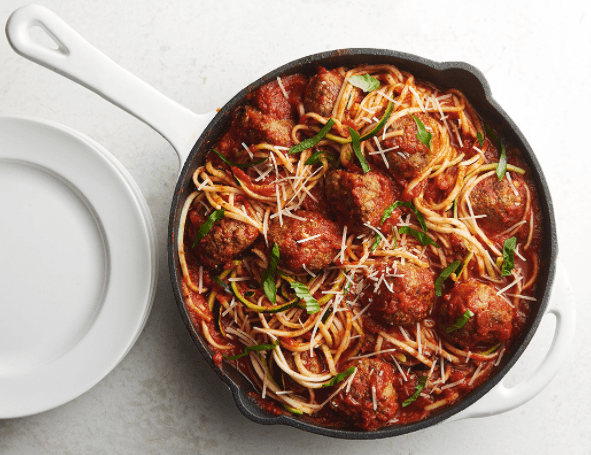 55 min
4 servings
gluten-free
Ingredients:
• 1 lb lean ground beef
• 1/2 cup panko bread crumbs
• 1/4 cup onion, diced
• 1/4 cup Califia Farms unsweetened
almondmilk
• 1/2 tsp Worcestershire sauce
• 1/2 tsp salt
• 1/2 tsp black pepper
• 1 egg
• 1 Tbsp olive oil
• 1 jar Muir Glen organic pasta sauce
(any flavor)
• 1/2 cup water
• 6 medium zucchini, julienne peeled or
spiralized (6 cups)
• 1/4 cup shredded fresh basil leaves
• 1/2 cup shredded Parmesan cheese, if
desired
Instructions:
1. Mix beef, bread crumbs, onion, milk, Worcestershire sauce, salt, pepper, and egg in
a large bowl. Shape mixture into 12 (2-inch) meatballs.
2. In 14-inch skillet, heat olive oil over medium heat. Add meatballs; cook 6 to 8
minutes, gently turning occasionally, just until browned on all sides.
3. Add Muir Glen organic pasta sauce and water; heat to simmering. Simmer 8 to 10
minutes, stirring occasionally, until meatballs are thoroughly cooked and the internal
temperature reads 165° F (74° C) for 15 seconds. Using slotted spoon, transfer
meatballs to plate, and cover to keep warm.
4. Stir zucchini noodles into the pasta sauce; cook 2 to 4 minutes, stirring gently, until
noodles soften. Divide noodle mixture among 4 bowls. Top with meatballs. Sprinkle with
basil and Parmesan cheese.