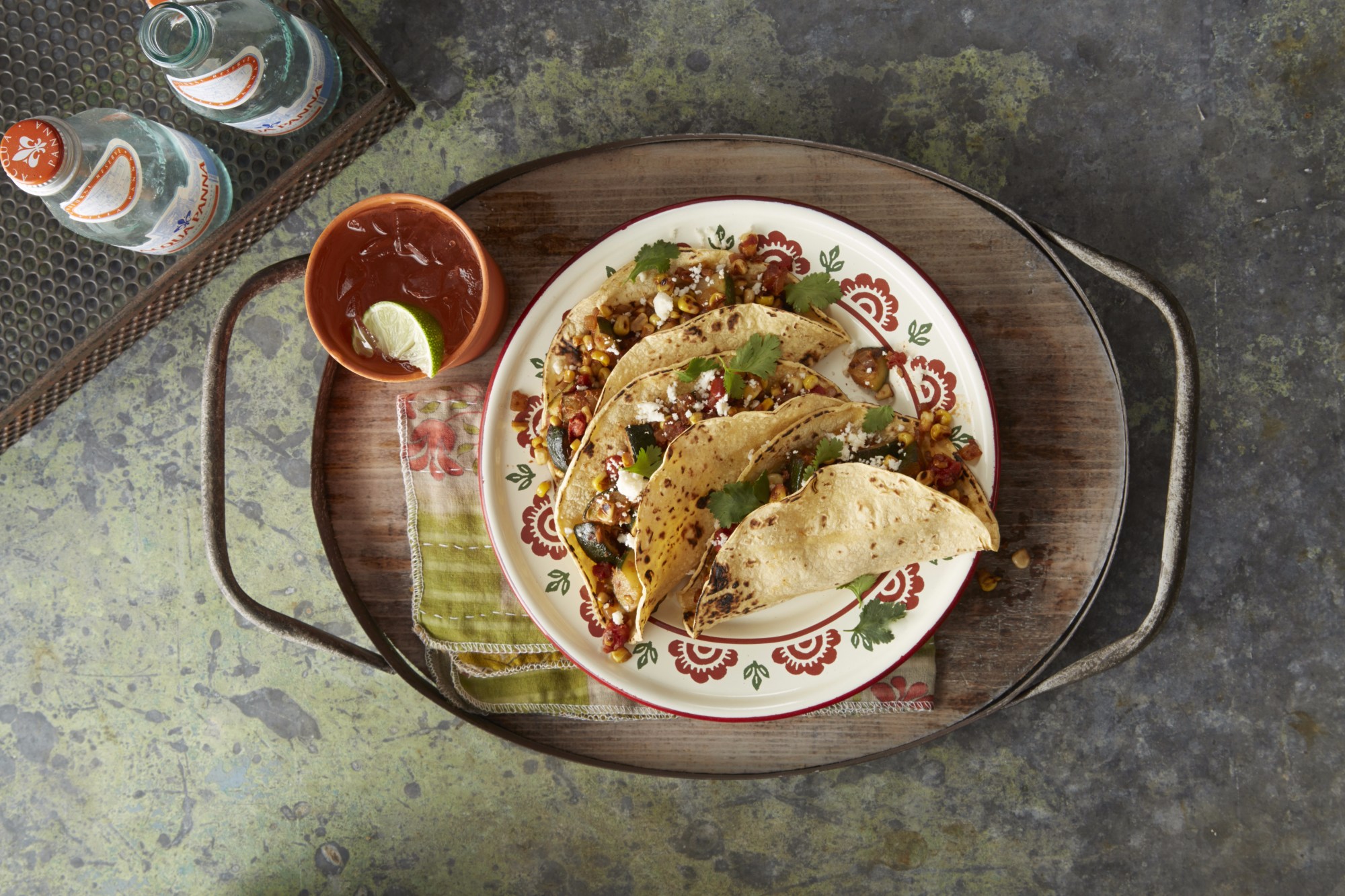 45 min
4-6 servings
vegetarian
gluten-free
Ingredients:
• 4 Tbsp grapeseed oil, divided
• 3 cups fresh or frozen (thawed) corn kernels
• 1 medium onion, finely diced
• 2 large garlic cloves, minced
• 2 medium zucchini, cut into half inch cubes
• 1/2 cup Muir Glen organic fire roasted crushed
tomatoes, undrained
• 1 chipotle pepper in adobo sauce, minced
• 1/4 tsp fine sea salt or kosher salt
• 1/4 tsp black pepper, ground
• 12 corn tortillas, warmed
• 1/2 cup crumbled Cotija or feta cheese
• 1/2 cup sour cream or Mexican crema
• 1/4 cup fresh cilantro leaves
• Lime wedges
Instructions:
1. In 12-inch stainless steel skillet, heat 2 Tbsp of oil
over high heat. Add corn; cook about 5 minutes, stirring
occasionally to allow charring, until most of the corn has
dark brown spots.
2. Add onions; cook about 1 minute, tossing and
stirring occasionally until softened.
3. Add garlic; cook about 1 minute longer, stirring
constantly, until fragrant.
4. Transfer corn mixture to clean bowl. Clean out
skillet, and wipe dry.
5. Return skillet to high heat; add remaining 2 Tbsp
oil. Arrange zucchini in single layer in skillet. Cook,
without stirring, until zucchini is dark brown.
6. Turn zucchini, and char on second side, about 2
minutes longer.
7. Add tomatoes, chipotle pepper, salt, and pepper.
Cook and stir 1 minute.
8. Stir in reserved corn mixture.
9. Serve immediately with warm tortillas, cheese, sour
cream, cilantro, and lime wedges.