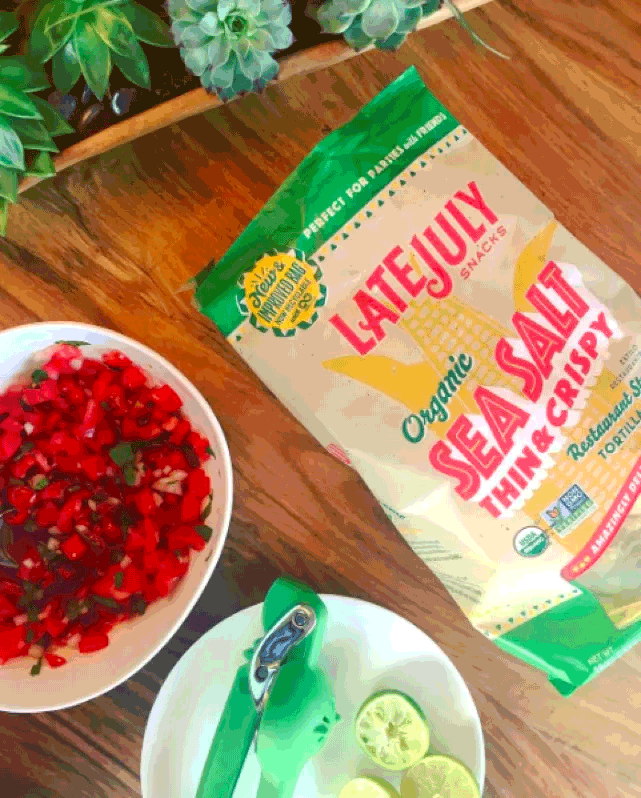 Homemade Salsa Verde recipe that we LOVE (OK, obsessed with).
15 min, 12 servings
vegan
gluten-free
• 10 tomatillos, husked and rinsed
• 1 small bunch of cilantro, chopped
• 1 lime, juiced
• 1/2 yellow onion, minced
• 1 jalapeño pepper, seeded and minced
• 1 large garlic clove, minced
• sea salt to taste
• 11 oz. bag Late July organic restaurant style tortilla chips
Instructions:
1. Optional: preheat oven to 425° F (220° C) and roast tomatillos for 5 minutes. Raw tomatillos will give the salsa a lighter, fresher taste.
2. Place tomatillos in a blender, pulse until finely chopped. Add cilantro and lime juice then pulse again.
3. Transfer to a large bowl, and add onion, jalapeño pepper, and garlic. Season with sea salt to taste.
4. Enjoy with tortilla chips (Late July is my favorite tortilla chip).