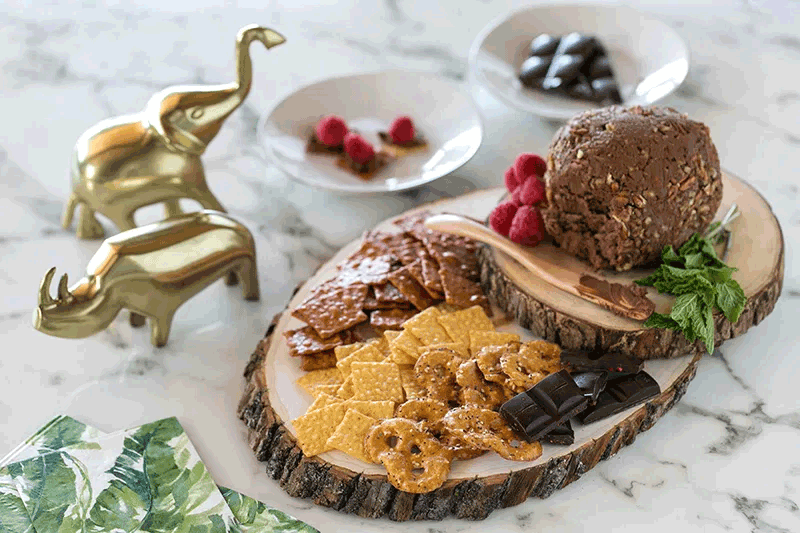 20 min prep
2 hr chill
20 servings
vegetarian
gluten-free
Ingredients: 
2 bars Endangered Species Chocolate dark chocolate with raspberries (Grizzly)
8 ounces cream cheese, room temperature
½ cup unsalted butter, room temperature
2/3 cup powdered sugar
1/3 cup red wine, any variety
3/4 cup pecans or almonds, chopped
Instructions:
In a double boiler, melt chocolate until smooth. Set aside to cool, but not harden.
Once cooled, combine chocolate with cheese, butter, sugar, and wine. Using an electric mixer, whip all ingredients on high until smooth and fluffy in consistency. Chill in refrigerator for at least 2 hours, preferably overnight.
Place an 18-inch piece of plastic wrap on the counter. Pour chilled chocolate mixture into center of plastic wrap. Gently bring plastic wrap up around mixture, forming a ball with your hands in the process.
On another piece of plastic wrap, place nuts in a single layer. Unwrap chocolate cheese ball and roll over layer of nuts, completely coating. Wrap and store in refrigerator until ready to serve.
Serve with graham crackers, bagels, pancakes, or waffles!