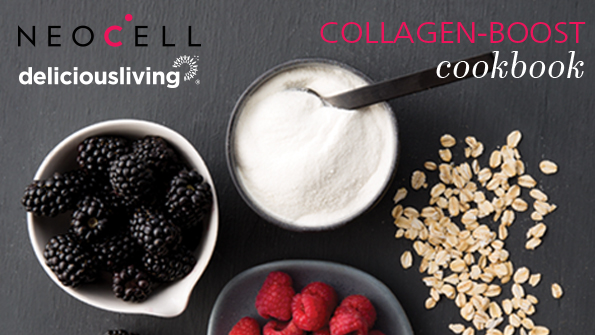 BOOST YOUR LIFE WITH COLLAGEN
Whether you're trying to jumpstart your day (packing lunches, cleaning up spilled milk, walking into a meeting 15 minutes late … we get it!), sneaking in an afternoon CrossFit session or jetting off to a dinner party, nothing will prepare you to face the task ahead like being well-fortified.
What we all know by now is that a diet filled with brightly colored veggies, whole grains and healthy fats is generally a stellar foundation to keep you energized and focused. What we're learning: Every diet and lifestyle is different, requiring us to customize our food choices, and that you just can't get enough of some nutrients—such as collagen— from your diet.
In this cookbook, you'll find collagen-boosted recipes that satisfy every craving and a range of diets, including raw, low-FODMAP and allergy-friendly, from fabulous health and wellness bloggers who are committed to developing healthy and absolutely delicious recipes to help you feel your best self.
BUYING COLLAGEN – WHAT TO KNOW
Confused by the types of collagen and how they work? Before stocking up, here's a quick cheat sheet of the most common kinds you'll find in the aisle—and how to use them.
Collagen types 1 and 3: Found together in the body, they comprise about 90 percent of the body's collagen content. They're best for beauty benefits such as youthful skin, hair and nails; healthy bones and joints.
Collagen type 2: Found only in cartilage, it makes up less than 10 percent of the body's supply. It is best for joint and cartilage support.
Shopper's tips: When choosing the right collagen supplement, be sure not to mix types 1 and 3 with type 2 – it's not dangerous, but it can diminish effectiveness.
Dosage: Look for products with not only the correct dosage (between 2,000 and 6,000 mg) but also a clear label explaining which type(s) are included. Bonus points if you can find supplements that also contain vitamin C, an important factor in producing collagen.
ALLERGY-FRIENDLY RECIPES
Chocolate and Vanilla Layer Cake from @gigieats
INGREDIENTS: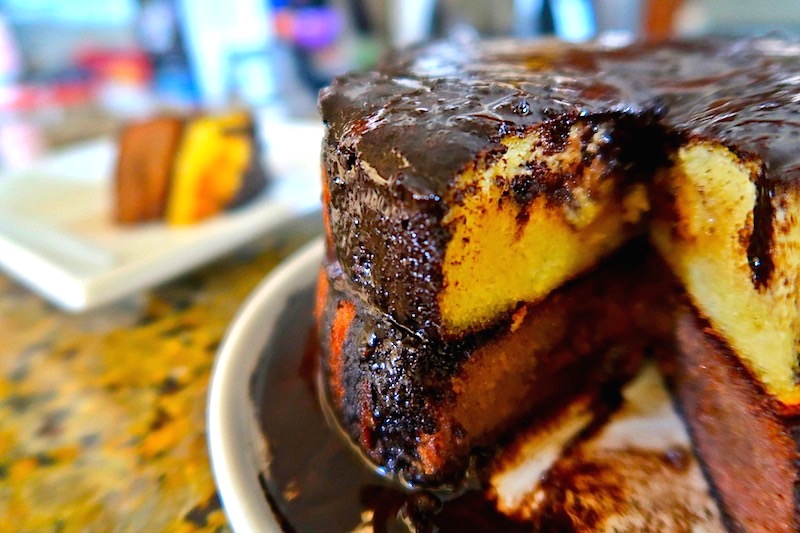 1/2 cup coconut flour
1/2 cup butter-flavored coconut oil
1/2 cup erythritol
1/2 teaspoon baking soda
6 whole eggs
1-2 tablespoons coconut milk
1-2 tablespoons unsweetened cocoa
powder (for the chocolate cake layer)
1-2 teaspoons vanilla extract
FROSTING:
1/2 cup butter-flavored coconut oil
1/4 cup unsweetened cocoa powder
1/4 cup NeoCell Super Collagen or your favorite collagen supplement
12 – 24 drops liquid vanilla stevia extract
DIRECTIONS:
To make the vanilla layer of cake, blend the coconut flour, eggs, coconut oil, baking soda and vanilla into your blender.
Midway through the mixing process, add the erythritol and coconut milk. Blend until batter is smooth and has a consistent texture throughout.
Grease a small round cake pan with coconut oil or non-stick spray, pour the batter into the pan and smooth.
Stick the pan filled with batter into the air fryer and cook for roughly 12 minutes at 400 F degrees. Take the cake out of the air fryer after 12 minutes, flip it over, put back into the cake pan and cook at 370 F for another 10 to 12 minutes. Keep an eye on it!
Follow the same process with the chocolate layer of cake but add 1 to 2 tablespoons of cocoa powder to the mix.
When the cake is cooking, it's mandatory to eat all the remaining raw batter because … Who likes food waste?
Cake is not cake without some frosting. So mix coconut oil, unsweetened cocoa powder, collagen and vanilla stevia extract to your palate's liking (we added a lot since we are vanilla girls) and mix together until smooth. If you want it creamier, add a dash of coconut milk to the mix.
Peanut Butter Oatmeal Bites from @krystenskitchen
Makes about 10 bites
These little bites of goodness contain just a few simple ingredients and are ready in a flash. No oven required!
INGREDIENTS: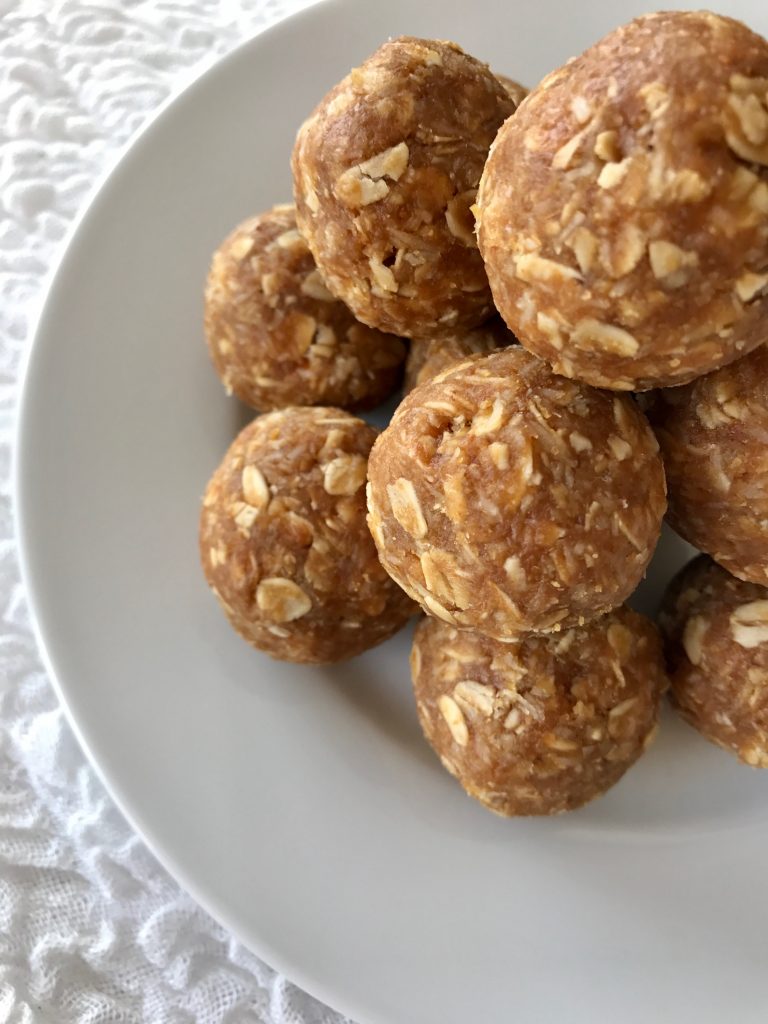 1 cup rolled oats
1/2 cup peanut butter
1/ 3 cup maple syrup
1 cup shredded unsweetened coconut
1/2 cup flax seed meal
2 teaspoons vanilla
2 tablespoons dairy-free milk
2 scoops NeoCell Super Collagen or your favorite collagen supplement
DIRECTIONS:
In a mixing bowl, mix together your dry ingredients: rolled oats, flax seed meal, shredded coconut and NeoCell Super Collagen.
In a separate bowl, mix together your wet ingredients: peanut butter, maple, vanilla and dairy-free milk.
Pour your dry ingredients into the bowl of wet ingredients and mix well. Mixture might seem dry, but it will combine once you mix.
Put bowl in fridge to chill for 20 minutes.
Roll the mixture into balls by using a spoon or cookie scoop to ensure they are all the same size. Store bites in fridge.
Collagen, CrossFit and Paleo
Thanks to its joint-health benefits, collagen has become a go-to for the Paleo and CrossFit communities. You can easily sneak it into your Paleo smoothie or snack bites for fitness-ready fortification.
Chocolate Collagen Crispy Rice Treats from @beautymomme
Makes about 20 pieces
Inspired by good ol' fashioned rice crispy treats, this version has swapped out some of the not-so-good ingredients and added in collagen.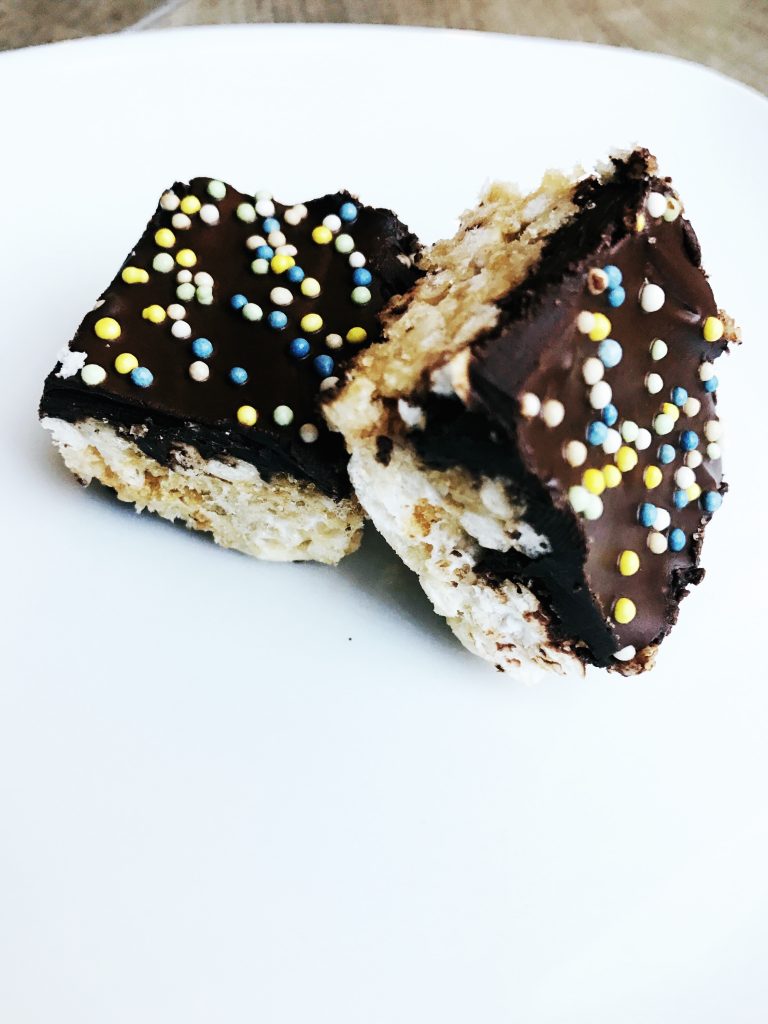 INGREDIENTS:
2 ½ cups crispy rice cereal
1 bag mini marshmallows
4-6 tablespoons organic ghee (or avocado oil)
2 scoops NeoCell Derma Matrix Protein
CHOCOLATE COATING WITH SPRINKLES:
10-ounce bag of semi-sweet
chocolate chips
(Optional) Organic confetti sprinkles
DIRECTIONS:
Start melting the chocolate in a porcelain double boiler. While the chocolate is melting, you will have just enough time to make the crispy portion of it.
On medium heat, place the ghee (or oil) in the pan until it's fully melted. Add in the entire bag of marshmallows and stir until all of the marshmallows become liquid (this will happen superfast). If you find the marshmallows are sticking to the pan, then add in a little bit more ghee.
Once the marshmallows become a thick liquid, add in two scoops of the NeoCell Derma Matrix protein. Sprinkle in the powder and stir while you're adding it in.
After the powder is stirred into the liquid marshmallow, turn down the heat to low and start adding in the crispy rice, a half cup at a time. Depending on the consistency, you may need to add more.
Transfer the crispy rice to a flat plate, and shape it as desired. I don't recommend placing this on something that has raised sides, as it may be difficult to cut once it's set.
By now, your chocolate should be fully melted. Drizzle and spread the chocolate on the top of the combined marshmallow and crispy rice. Spread as desired.
If you're in the mood for them, add on a little color with the confetti sprinkles. Allow 5 hours to set at room temperature, or 30 minutes in the fridge. (Please note that it can get really hard to cut when taken directly from the fridge. Let it sit out for 10 minutes before cutting.)
Live healthy
The best way to start living a more natural and healthier lifestyle: find the foods you love and eat more of them! Then give those foods an extra boost with supplements such as collagen.
Ali's Collagen Beauty Bowl from @alilandry
Serves 1-2
This vibrant bowl blends a combo of bold, beautiful ingredients for an everyday energy and beauty boost.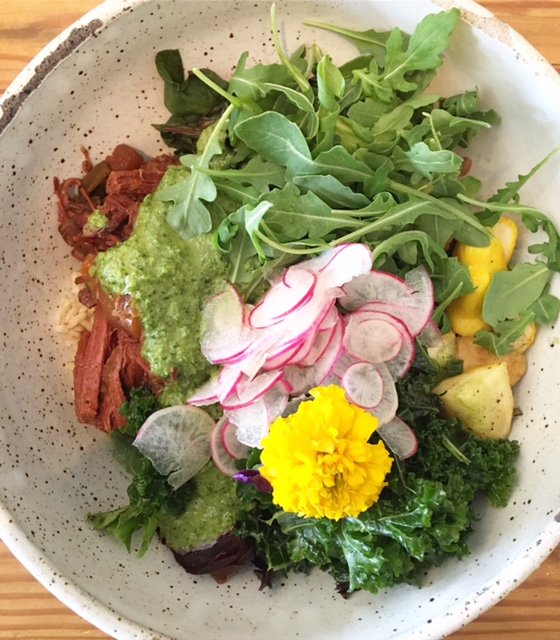 INGREDIENTS:
1/4 cup organic arugula
1/2 cup organic kale
1/4 cup organic sautéed yellow squash
1/4 cup steamed brown rice
1/4 cup grass-fed stewed bison
2 radishes, thinly sliced
DRESSING:
1 cup basil
1/ 3 cup walnuts
1/2 cup olive oil
2 teaspoons NeoCell Super Collagen or your favorite collagen supplement
Pinch of sea salt
1/ 3 cup champagne vinegar
DIRECTIONS:
Place a small bison roast with a can of organic tomatoes, one medium chopped onion and a pinch of salt and pepper in a covered pot in the oven on 350 F degrees for 50 minutes. Remove and shred.
Steam brown rice, sauté yellow squash in coconut oil with sea salt and pepper and prepare your greens.
For dressing, blend all ingredients and drizzle over salad.
Follow a low-FODMAP Diet
If you've recently discovered that a low-FODMAP diet is right for you, it's important to start experimenting with new flavors and recipes to help you thrive.
Low-FODMAP cheat sheet
FODMAPs (fermentable oligo-, di-, mono-saccharides and polyols) are carbohydrates (sugars) found in foods. However, not all carbs are FODMAPs. FODMAPs pull water into the intestinal tract, which means they may not be digested or absorbed well by the body—and, when eaten in excess, could be fermented upon by bacteria in the intestinal tract. For many people, this can lead to symptoms of diarrhea, constipation, gas, bloating and/or cramping.
Collagen is a low-FODMAP food choice that can help fill in some of the gaps from removing certain dairy proteins or legumes.
High-FODMAP foods include:
FRUCTOSE: some fruits (including apples, dates, pears), honey, high-fructose corn syrup
LACTOSE: dairy (milk, chocolate, ice cream, sour cream)
FRUCTANS: chains of fructose in wheat, rye, garlic, onion
GALACTANS: legumes such as beans, lentils, soybeans
POLYOLS: sweeteners that end with "ol" (mannitol, sorbitol, xylitol) and some stone fruits (such as peaches, cherries, plums)
Low-FODMAP Peanut Butter Mousse from @fodmaplife
Serves 4
This rich, creamy mousse offers flavor and decadence to those following a Low-FODMAP diet and a boost from turmeric, chia and collagen.
INGREDIENTS:
3 scoops NeoCell Super Collagen or your favorite collagen supplement
1/4 cup low-FODMAP milk, such as almond milk or rice milk
14 ounces extra firm tofu
¼ cup organic peanut butter
¼ cup pure maple syrup
1 tablespoon chia seeds
1/ 8 teaspoon turmeric
1/ 8 teaspoon cinnamon
Pinch of sea salt
2 ounces dark chocolate bark or chips for topping (optional)
(Note: If you are following the low-FODMAP diet stick to firm tofu, not silken tofu as it is high in FODMAPs.)
DIRECTIONS:
Drain tofu and pat dry with paper towels. Cut tofu into cubes.
Add NeoCell Super Collagen, almond or rice milk, tofu, peanut butter, maple syrup, chia seeds, turmeric, cinnamon and sea salt to a NutriBullet blender or food processor. Process until smooth. If using a blender, you may need to stop every 10 seconds to scrape down sides with a spatula.
Place peanut butter mousse in an airtight container and chill in refrigerator for about 30 minutes.
Serve peanut butter mousse in small bowls or ramekins and top with dark chocolate chips or crumbled dark chocolate bark. Enjoy immediately!
Low-FODMAP Raw Protein Nut Balls from @fodmaplife
Makes 12 to 14 balls
Goodness, gracious, great balls of collagen!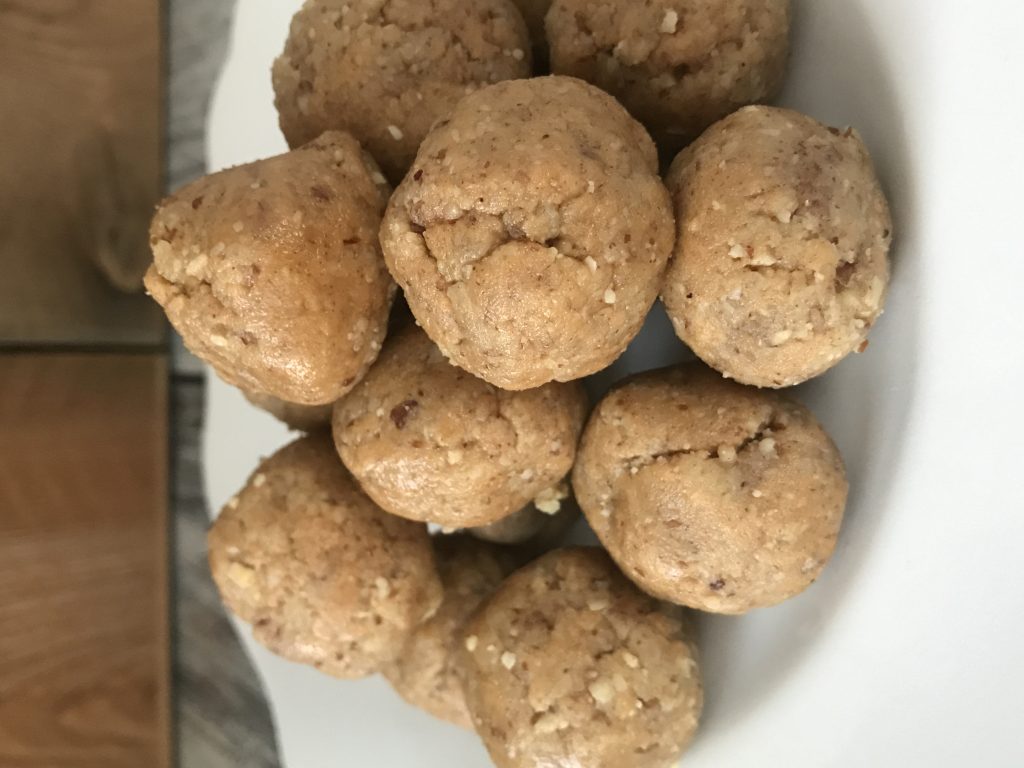 INGREDIENTS:
½ cup pecans
2 scoops NeoCell Super Collagen or your favorite collagen supplement
1 cup almond meal
1 tablespoon organic chia seeds
1 tablespoon raw shelled hemp seeds
¼ cup pure organic maple syrup
3 tablespoons brown rice syrup
¼ cup creamy organic peanut butter
DIRECTIONS:
Add pecans to a food processor or blender. Pulse until nuts are crumbled, but take care not to pulse for too long — you do not want mixture to become smooth like nut butter.
In a small to medium-sized bowl, whisk together NeoCell Super Collagen, almond meal, chia and hemp seeds. Next, add in maple syrup, brown rice syrup and peanut butter. Stir very well with a heavy spoon to combine.
Roll dough between hands to form into 1-inch balls.
Enjoy immediately, or store in an airtight container in refrigerator.
Go raw!
Take the oven out of the equation and preserve the nutrients of your favorite foods by embracing a mainly raw foods diet. Of course, the best time of year is during the summer months but you can find excellent recipes and foods to prep raw year-round.
Beautification Breakfast from @serenityfoods
Serves 4
This recipe is nutrient packed with collagen, antioxidants, potassium and fatty acids. Mm, mm good!
INGREDIENTS: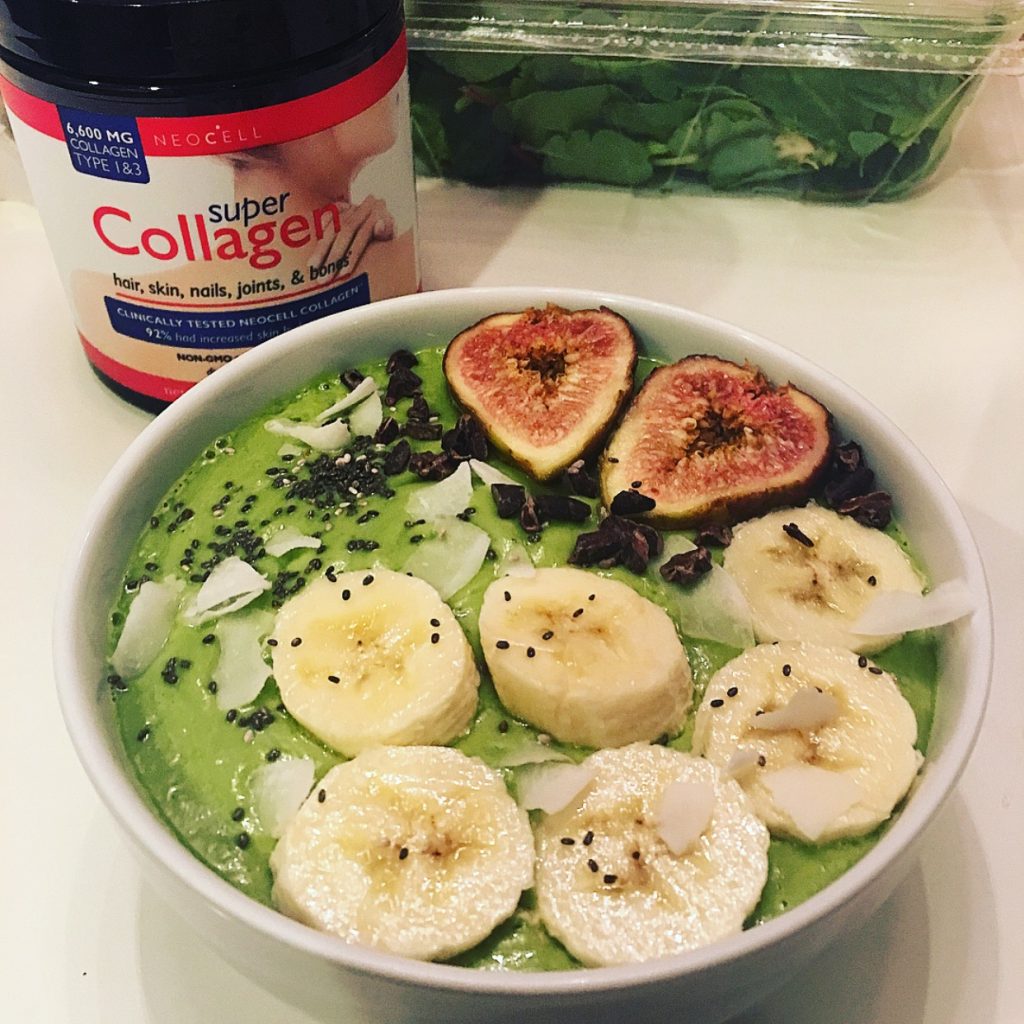 2 well ripened bananas, peeled
2 cups organic berries
2-3 tablespoons hemp seed mylk (see recipe below)*
Maple syrup or pitted dates to taste (optional)
2 tablespoons hemp seeds
2 tablespoons chia seeds
1/ 8 teaspoon cinnamon
Dash of ground cardamom
Dash of freshly grated nutmeg
Edible flowers and a sprig of peppermint to garnish
DIRECTIONS:
Place bananas, berries and the collagen hemp mylk (recipe below) into a food processor and mix until all the ingredients are combined. Be sure to taste and adjust the sweetness if desired, adding either maple syrup or pitted dates and blend until everything is combined.
To this mixture, add hemp seeds, chia seeds and cinnamon and pulse to combine.
Transfer to 3-4 bowls for individual servings.
Garnish with edible flowers and a sprig or two of peppermint.
Hemp Seed Mylk from @serenityfoods
INGREDIENTS:
1 cup raw shelled hemp seeds
3 cups filtered water
3-6 pitted dates or 2-3 tablespoons pure maple syrup
2 -3 tablespoons NeoCell Super Collagen or your favorite collagen supplement
1 teaspoon natural vanilla extract
Pinch of Celtic sea salt
DIRECTIONS:
Place all the ingredients in a powerful blender and blend on the highest speed until you reach a milk consistency.
Refrigerate immediately and use in as many recipes as needed to replace any other milk.
Beautification Breakfast Bar from @serenityfoods
Serves 10
These breakfast bars are an ideal source for calcium, iron and plant protein. They are best when stored in the freezer and eaten when chilled.
INGREDIENTS:
2 cups black sesame seeds (pre-soaked for around 20-30 minutes)
1 cup raisins or dried unsulfured apricots
1/2 cup dried, shredded coconut
1/2 cup flaxseed meal (ground flax seeds- preferably sprouted)
1/2 cup tahini
1/4 cup coconut oil
1/ 3 cup maple syrup
2 teaspoons NeoCell Super Collagen or your favorite collagen supplement
1 teaspoon pure vanilla extract
1/2 teaspoon Celtic sea salt
Dash of cinnamon
Dash of freshly grated nutmeg
DIRECTIONS:
Place all dry ingredients in a large bowl and stir well.
Add the remaining ingredients and stir gently with a spoon. Check for taste and add more maple syrup if needed.
Press mixture firmly into a large dish or baking pan until it is flat in an even manner.
Cover and freeze for at least 1-2 hours. Cut into squares and serve.
COLLAGEN: The Ultimate Vitality Booster
Most of the time, we take supplements to make up for what we can't get in diet alone. But collagen supplementation is a bit different—and a bit more powerful. Like other supplements, which boost nutrient content, collagen supplements can send a quick dose to the body. Unlike other supplements, a collagen supplement is also capable of stimulating cells to produce even more collagen at a faster rate, spawning natural rebuilding of the body's tissues. This new collagen becomes part of the body, and may last for months or even years. But while collagen is integral to the regenerative process, it's not a one-man show. Collagen needs support and hydration for peak performance, and delivers the best results in concert with other nutrients.
Be epicurean
Healthy eating doesn't have to be boring. In fact, natural meals are some of the most creative and inspiring. Get outside of your comfort zone, experiment and—as always—enjoy!
Collagen Cauliflower Fried Rice from @CharlesChenTV
Serves 2-3
A fresh and delicious take on fried rice, this recipe is not only super simple, but packed with savory flavor.
INGREDIENTS: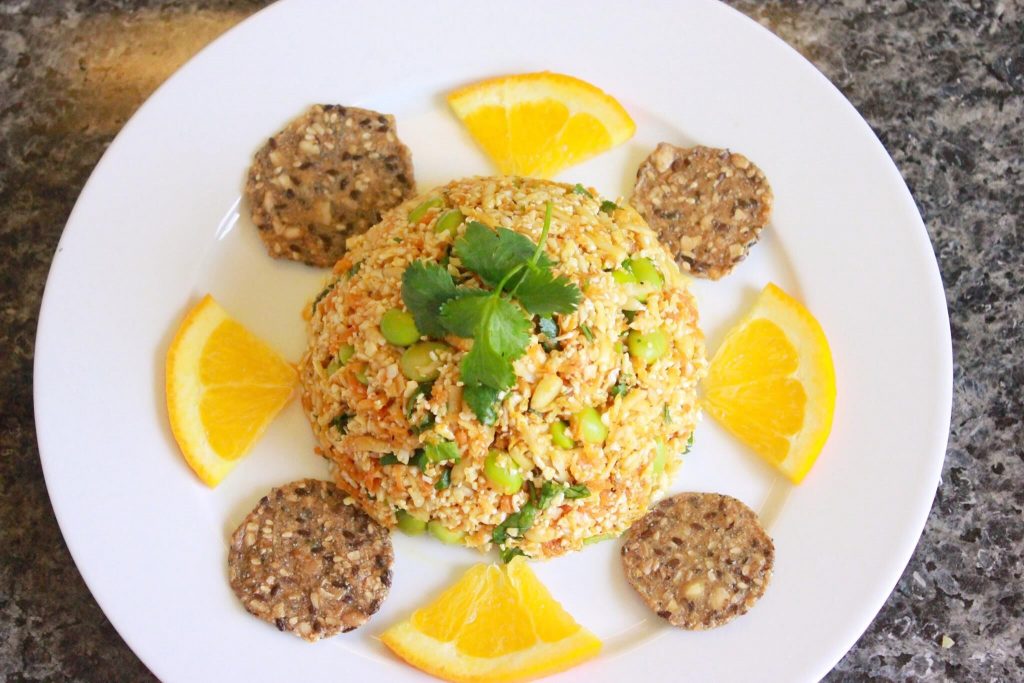 1 medium head cauliflower
1/4 cup fresh organic edamame
Handful of chopped cilantro
1 tablespoon NeoCell Super Collagen or your favorite collagen supplement
1/2 cup shredded carrots
Juice of one lemon
1 tablespoon curry powder
2 teaspoons coconut nectar
1 teaspoon grated fresh ginger
3/4 cup pine nuts
Pinch of fresh pepper
Drizzle cold-pressed olive oil
Flax crackers or favorite crackers to serve
DIRECTIONS:
Cut the cauliflower florets from the stem.
Pulse in food processor until the cauliflower is the size of pieces of rice.
Stir in peas, carrots, cilantro; season and enjoy!
Collagen Party Nachos @CharlesChenTV
Serves 3-5
It's a collagen party! Welcome guests with this non-dairy take on a festive favorite.
INGREDIENTS: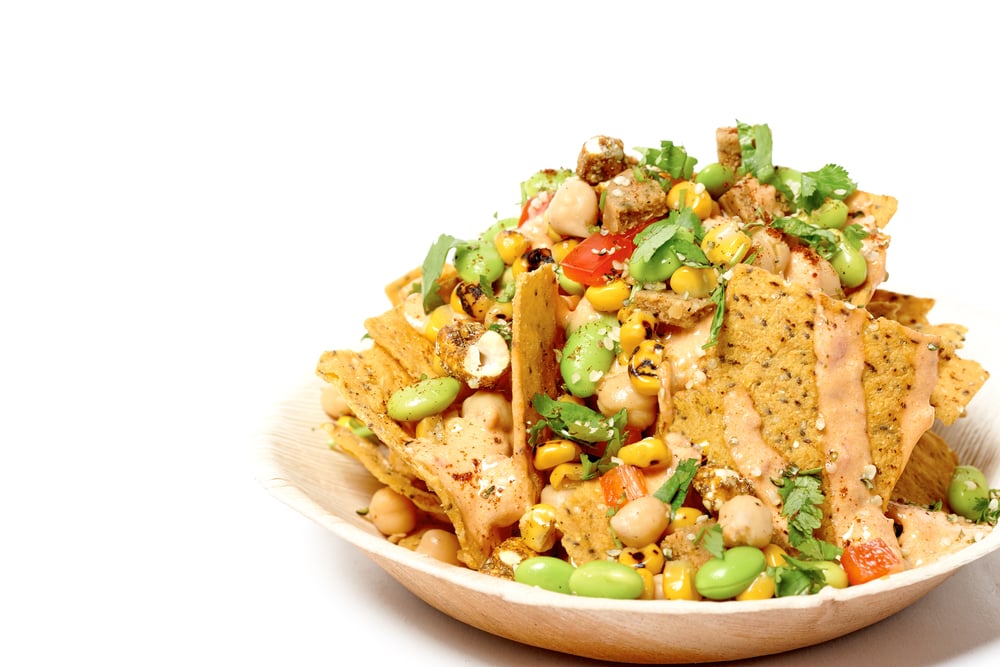 CHIPOTLE "CHEESE"
2 cups steamed potatoes, diced
1 cup steamed carrots, diced
2 tablespoons raw cashews
1/4 cup almond milk
1 tablespoon NeoCell Super Collagen or your favorite collagen supplement
2 teaspoons Himalayan Sea Salt
1 tablespoon lemon juice
1/2 cup nutritional yeast flakes
Dash of cayenne pepper, garlic powder, onion powder
2 chipotle chiles in Adobo to taste
NACHOS:
Organic corn chips
1/ 3 cup non-GMO yellow corn
1/ 3 cup cooked edamame, shelled
1/ 3 cup cooked garbanzo beans
1/ 3 cup tomatoes, diced
2 soy or any vegan chorizo links, chopped
Sprinkle of hempseeds and chopped cilantro
DIRECTIONS:
Steam potatoes and carrots and cool; blend all sauce ingredients.
Prep nachos in bowl, top with veggies and pour sauce over.
Top with hemp seeds and cilantro. Enjoy!
Have a recipe of your own to share? Tweet or post it using the hashtag #Cookingwithcollagen
All of these amazing recipes were originally found click here.
Want more amazing collagen-boosted recipes? Click here to download more.