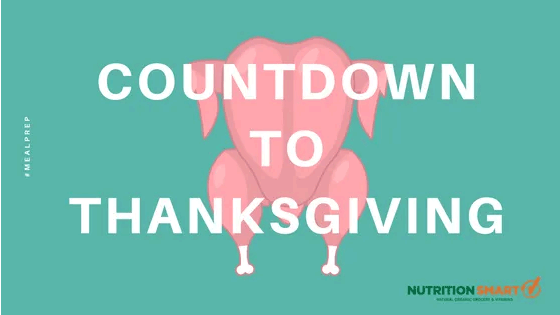 Are you ready for Thanksgiving? If not, don't worry, we've got you covered. Let's start with an easy to follow countdown to the big day then finish with a meal planning guide that will have you zipping through the grocery aisles (hopefully at Nutrition Smart). #shamelessplug 🙂
Let's start…
Countdown to the Feast
Countdown to the Feast
Three weeks before:
Confirm guest count and any specific dietary constraints.
Do you need to rent more plates? Tables? Chairs?
Two weeks before:
Confirm your final menu.
Look at the timing of your dishes. Do you have enough space to cook everything you would like? Think about what others can bring and keep a list. Friends and family love to contribute on a holiday!
Order a fresh and local turkey from your natural grocer (you can pre-order your fresh turkey from Nutrition Smart and pick it up when you are ready), or buy a frozen turkey and put it in the freezer. Calculate defrost time (see below) and add any time for brining.
Stock up on your necessary non-perishable items.
One week before:
Beat the rush and purchase your non-perishables now.
Begin to defrost a frozen turkey in your fridge. Refer to the thawing table below.
Two days before:
Make non-flakey pies, baked goods, soups, and cranberry sauce. Refrigerate.
Place assembled, uncooked casseroles in your refrigerator. Less work for Thanksgiving day- just pop them in the oven!
One day before:
Bake pies with flakey crusts.
Buy vegetables, salad greens, and pick up your fresh turkey.
If you're brining your turkey, begin now!
On Thanksgiving Day:
Prepare stuffing or dressing. Stuff your turkey. Cook!
Just before the turkey's done, begin cooking fresh vegetables, and prepare anything else that needs to go into the oven.
After removing the turkey from the oven:
Cover turkey with foil and allow it to rest. This marks about 45 minutes before you should begin the meal!
Run turkey drippings through a sieve to create a savory gravy.
Bake your dressing.
Heat up dishes that need it, including pre-made casseroles and
baked goods.
Welcome your guests to the table, and the beautiful feast!
Thanksgiving Meal Planning Guide
General guidelines will help you plan the correct amount of food to make or purchase.
Thawing Your Turkey
Turkey Size               Refrigerator                  Cold Water
(24 hrs/4-5 pounds)      (30 min/pound)
4 to 12 pounds         1 to 3 days                      2 to 6 hours
12 to 16 pounds       3 to 4 days                      6 to 8 hours
16 to 20 pounds       4 to 5 days                      8 to 10 hours
20 to 24 pounds       5 to 6 days                      10 to 12 hours
Thawing in the refrigerator:
Keep the turkey in its original wrapper. Place it on a tray or in a pan to catch any juices that may leak. A thawed turkey can remain in the refrigerator for 1 to 2 days. If necessary, a turkey that has been properly thawed in the refrigerator may be refrozen.
Thawing with cold water:
Wrap your turkey securely, making sure the water is not able to leak through the wrapping. Submerge your wrapped turkey in cold tap water. Change the water every 30 minutes. Cook the turkey immediately after it is thawed. Do not refreeze.
Want some help finding recipes? Check out our updated holiday recipe guide here.