New Products at Nutrition Smart in April
New products are flooding all departments here at Nutrition Smart! Coming this month (April 2018) look for some delicious, inspiring and just downright cool products on our shelves.
The corporate crew at Nutrition Smart just got back from some big expo's (Expo West and The Arnold) and they are always sure to check out booths that have a long line and or seem to really connect with consumers. In this vain they saw a product launch at the Twinlab booth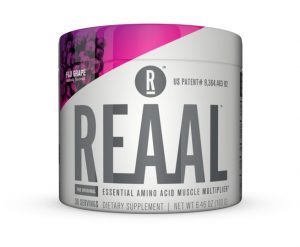 (quickie on Twinlab if you need it: they have been pioneering the Sports Nutrition world since 1968) for a product called Reaal. Reaal is a sports nutrition formula that has been precisely calibrated to provide a blend of essential amino acids to maximize lean muscle growth. We are talking 40 years of research, a patented formula and 24 human studies precisely. Reaal comes is 3 great flavors which mix clear and easily in your water bottle and not only is caffeine free but only 20 calories per serving!!! For those who are not fans of the flavors they also have vegan capsules. Reaal has been clinically demonstrated superior to build and restore muscles. How superior you say? 3 times more efficient than whey protein and 32 times more efficient than BCAAs, pretty neat right.
Next up, protein.
Our friends at Solgar have been telling us about their vegan protein powder named Spoonfuls for a long time. We finally brought in all three flavors and we are sorry we didn't listen sooner. This protein tastes amazing! This isn't just plant protein at 150 calories per serving, no this is more, much more. Think, fruit, vegetable and green concentrates, probiotics, digestive enzymes, flaxseed EFA and all o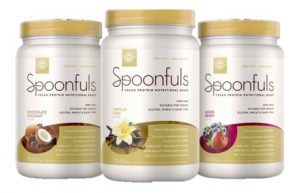 f the goodness of ayurvedic botanicals. What we really love about Spoonfuls is that we don't have to just make a shake with it, we can add a scoop to our yogurt then add another scoop to some almond milk at lunch or add it to a water bottle and take it on the go. Spoonfuls allows us to consume protein the way we want to and we love them for it.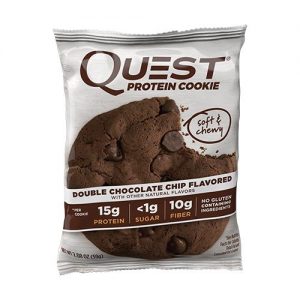 Speaking of consuming protein. Do you sometimes just want a cookie? Not a shake, not a bar just a simple, yummy, soft baked cookie. You do? Come in today and try the new protein cookies from Quest. Each cookie contains 15 grams of protein and is soft baked, tastes great and will really help with any sugar cravings. We brought in all the flavors so you can mix and match your favorites in each meal prep.
Enjoyable Apple Cider Vinegar?!?!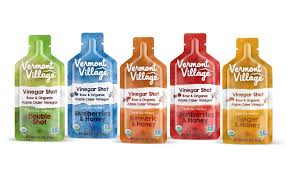 We all know the exceptional benefits of drinking ACV but, the thing is, ACV is harsh and it can become a chore. Well chore no more thanks to Vermont Village. We now carry all of the products they offer to help you and me make drinking ACV enjoyable. Yes, I said it, enjoyable. They have taken organic apple cider vinegar and made the first on-the-go shot that has it all, even the mother. Look for their sipping and drinking vinegars as well for a great alternative if taking shots isn't your thing.
Collagen, Collagen, Collagen.
Reserveage has been a trusted brand of Nutrition Smart for years and they are just killing it with innovation. They just launched a new line of collagen products and we have them all. The first, a collagen tea, named BeauTea. BeauTea is a blend of aromatic botanicals and hydrolyzed collagen which is easy to absorb and encourages natural collagen production and supports skin, bones and tissues. The sun-dried white tea leaves are high in antioxidants, which protect the skin and may help to reverse skin damage from the sun. BeauTea comes in three great flavors – white tea, white tea & lemon and white tea & hibiscus. FYI – it comes in a beautiful tin that you will want to show off in your kitchen table.
The second product we brought in from Reserveage is called Freshwater Collagen (powder). Made from freshwater fish, it offers an alternative collagen supplement to marine collagen. The key Ingredients are: Naticol® Marine Collagen Peptides®, Hyaluronic Acid and Vitamin C. This lemon-flavored collagen powder dissolves easily and tastes really good.
Mushroom + Seaweed = Immune Suport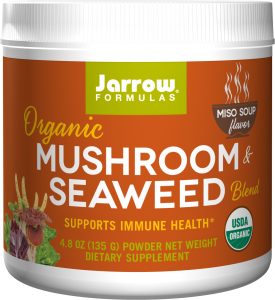 After this last cold and flu season (where everyone in my house was sick for what seemed like months on end) I realized that I can't wait for cold and flu season to take immune support supplements. Jarrow just made taking said supplements much more enjoyable with their new Organic Mushroom and Seaweed Blend (Miso flavored). This is not a broth mix for soup, but a supplement powder. This blend provides a variety of organic mushroom concentrates and seaweed, turmeric and ginger root. Mushrooms are a source of polysaccharides for immune support and Atlantic-harvested seaweed provides iodine for thyroid and immune support.
Fight the Blue Light
Blue light is everywhere, mainly because of sunlight but most notably because of the amount of time we spend in front of digital devices. Looking at computer screens, mobile phones or other digital devices that emit significant amounts of blue light, reduces contrast and can contribute to digital eye strain. Macula Protective Factors from Jarrow is a synergistic combination of three key carotenoids (Lutein/Zeaxanthin/Astaxanthin) that protect the eyes' maculae against oxidative stress, blue light from all types of screens, LED lighting and the sun. The macula is our eye is responsible for focus and color differentiation. You can find this new product in the vision section of our supplement department.
Beet. Heartbeat. Repeat.
I'm always looking for a new pre-workout that tastes good and can keep up with my workout. The new Beet & B Energizer Powder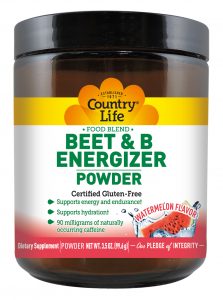 from Country life does just that. It is a food blend that supports energy, endurance and hydration. Each serving provides 90mg of naturally occurring caffeine from organic coffee berry; 8 essential B-vitamins; 6 essential electrolytes and it has a delicious watermelon flavor with no sugar added. We have both the full bottles and one-serving sticks that are great if you want to try out first or need to store in your bag for later.
Visit any of our many locations soon to try any of these products and more. Our stores are all staffed with knowledgeable employees and our facilities are ADA compliant with ramps for electric wheelchairs and automatic doors.