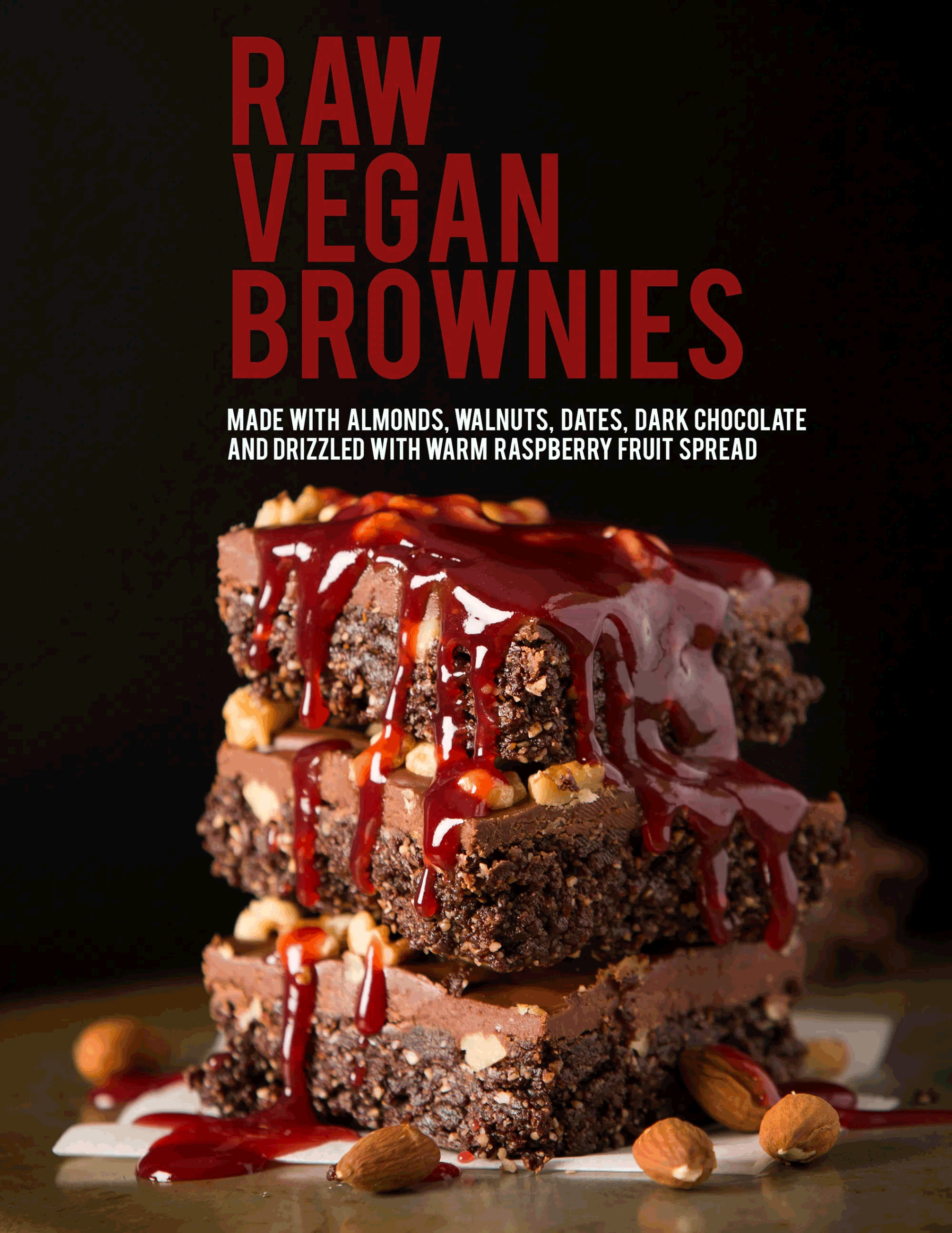 Don't let raw or vegan scare you – these brownies are just as good (we think better) than classic brownies!
30 min
12 servings
vegan
gluten-free
Ingredients

Brownies
• 1 cup raw almonds
• 1 1/2 cup raw walnuts, divided
• 2 1/2 cups dates, pitted
• 3/4 cup cacao powder or unsweetened cocoa powder
• 1/4 tsp sea salt
Ganache
• 1/4 cup Silk almond milk
• 1 cup dairy-free dark chocolate, chopped
• 1/4 tsp sea salt
• 2 Tbsp Nutiva coconut oil
• 1/4 – 1/2 cup powdered sugar
• Crofter's Organic raspberry fruit spread
Instructions

Brownies
1. Place dates in a food processor and process until small bits remain. Remove and set aside.
2. Add almonds and 1 cup walnuts to the food processor and process until finely ground.
3. Add cacao powder and sea salt and pulse to combine.
4. While pulsing, drop small handfuls of date pieces down into the food processor or blender spout with nuts and cocoa mixture.
5. Pulse until a dough consistency is achieved, adding more dates if the mixture does not hold together when squeezed in your hand.
6. Add the brownie mixture to a small parchment lined 8 x 8 pan and before pressing, add remaining 1/2 cup roughly chopped walnuts and evenly distribute. Then press down with hands until it is flat and firm.
7. Place in freezer or fridge to chill for 10-15 minutes.
Ganache
8. Add almond milk to a mixing bowl and microwave for 45 seconds or until very warm.
9. Immediately add chocolate to warm milk and loosely cover. Allow to melt for 2 minutes.
10. Add salt and stir gently to incorporate, then add melted coconut oil and whisk. Set in fridge for 10 minutes to thicken.
11. Remove from fridge and add powdered sugar a little at a time to thicken. Whisk again to combine. If it's too thin, add another few Tbsp of powdered sugar and beat until light and fluffy.
12. Frost brownies generously with ganache then top with additional raw walnuts.
13. Slice brownie and drizzle with warm raspberry fruit spread. Enjoy!