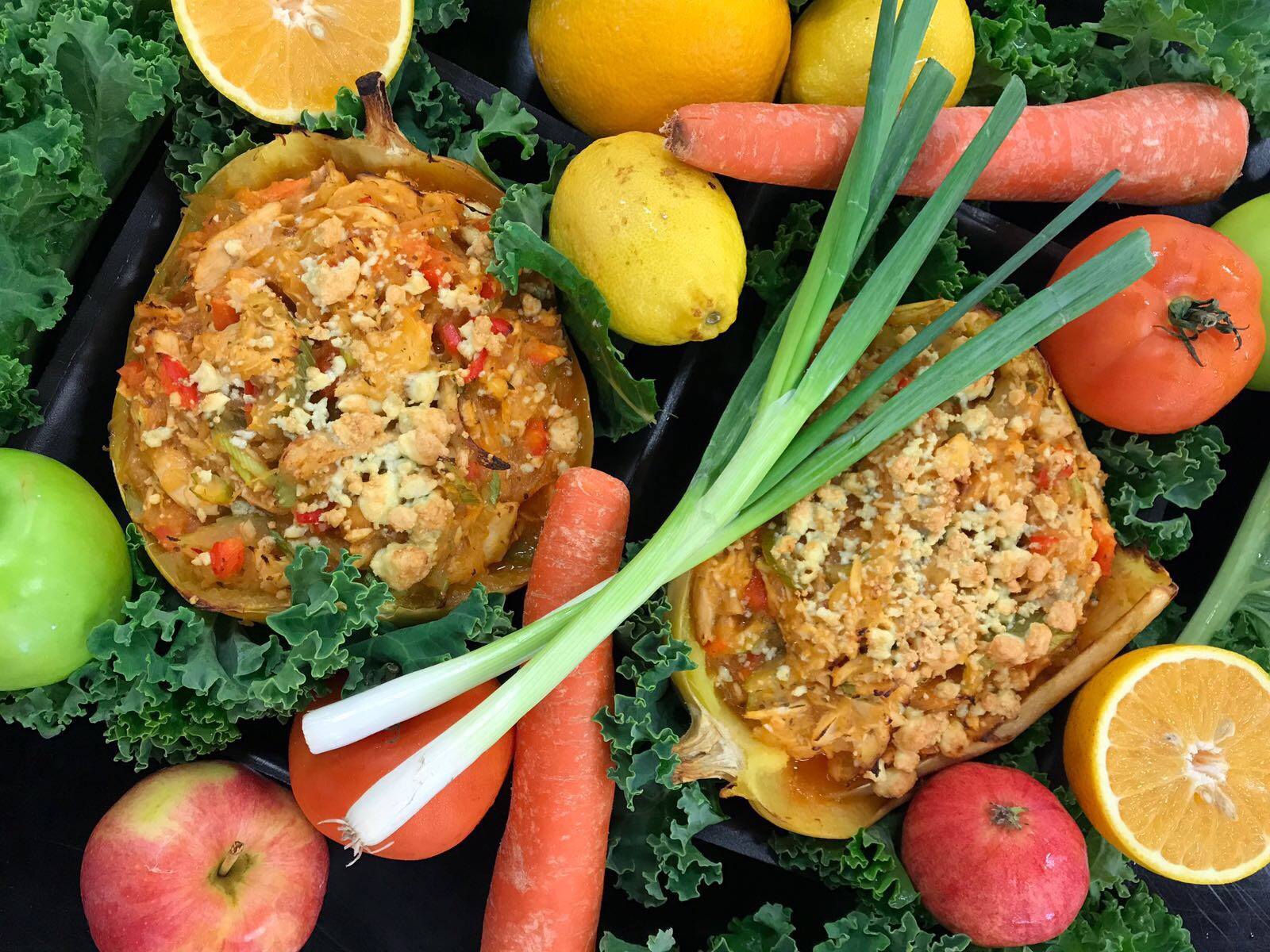 This is for the Buffalo chicken lovers who want a dish they can really tuck into and enjoy without any guilt. Drizzling the twice baked squash with creamy ranch dressing or a sprinkling of blue cheese (sorry, not Whole30) takes it over the top. You just might want to hide any leftovers – it's that good!
Prep time: 15 mins
Cook time: 45 mins
Total time: 1 hour
Cuisine: Paleo, Whole30, Grain-free
Serves: 4
Ingredients:
• 1 ¼ lbs chicken breast, cooked and shredded
• 1 medium spaghetti squash, halved (about 3 lbs.)
• 1 rib celery, thinly sliced
• 1-2 green onions, white and green parts thinly sliced
• ¼ cup diced red bell pepper
• ½ cup Hot sauce and Grass fed butter or Mild Buffalo Sauce
• Optional: ¼ cup Ranch Dressing
• Optional: ¼ cup crumbled blue cheese (omit for Whole30)
Instructions:
To roast the squash:
1. Preheat oven to 350°F.
2. Line a baking sheet with parchment paper and set aside.
3. Slice both ends from squash and discard.
4. Stand squash up on one of it's cut ends and use a large knife to cut the squash in half lengthwise.
5. Scoop seeds and stringy insides out using a large spoon.
6. Place squash cut-side down on the baking sheet.
7. Bake for 30-40 minutes or until squash is tender. Baking time will depend on the size of your squash, larger squash requiring a longer cook time. When squash is tender, allow to cool slightly before using a fork to gently scrape the squash into a large bowl. Reserve the squash shells.
8. While squash is roasting, cook the chicken.
To cook the chicken:
1. Directions for Instant Pot: Insert rack into inner pot. Add 1 cup water or broth. Lay chicken on rack. Secure lid and select 'Poultry' setting and increase time to 17 minutes (19 if the breasts are really thick). At the end of the cooking time, allow pressure to naturally release for 5 minutes then flip the vent valve and release the remaining pressure. Move chicken to a cutting board to cool slightly before shredding with two forks.
2. Directions for Stovetop: Place a medium skillet over medium-high heat. Add 1 tsp. avocado or coconut oil and swirl pan to coat with the oil. Add chicken and ½ cup water. Once the water begins to simmer, reduce heat and cover. Cook chicken for 15-18 minutes or until cooked through. Move chicken to a cutting board to cool slightly before shredding with two forks.
To assemble the stuffed squash:
1. Place squash shreds, chicken, celery, onions, peppers and Buffalo sauce in a large bowl. Toss well to coat. Spoon squash mixture into the squash shells. Return the stuffed shells back to the baking sheet and place in 350°F oven for 10-15 minutes or until heated through.
2. Serve with Ranch Dressing (for Whole30) or crumbled blue cheese, if desired.