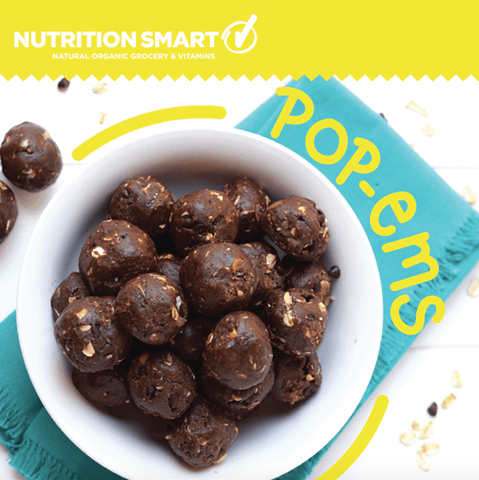 Chocolate Plant-Based Pop-Ems
Ingredients:
1 cup raw nuts and seeds (any combination desired)
8 dates, pitted
2 tablespoons cacao powder
2 tablespoons unsweetened coconut, shredded
Dash of salt
Additional seeds, coconut, spices for coating
Directions:
Place nuts/seeds, cacao, salt and shredded coconut into a food processor or mini-chop and pulse until blended fine.
Add dates and process until fully incorporated.
Roll 1 tablespoon at a time in your hands, forming a ball and roll through any coatings you desire.
Rawnola Plant-Based Pop-Ems
Ingredients:
1/2 cup rolled oats
1/4 cup unsweetened coconut, shredded
1/4 teaspoon cinnamon
Dash of salt
8 (or more) dates, pitted (until the mixture sticks together)
Directions:
Place the oats, coconut and cinnamon in a food processor and pulse until combined.
Add in the dates and pulse until the dates are incorporated and chunky.
This mixture doubles as both a granola cereal to enjoy with milk, a topping for any other cereal, a coating for other pop-ems and as a mixture for making pop-ems by rolling the mixture together to form the balls.
Both types of Pop-Ems keep several days in a sealed container or even a Ziploc bag.