Planning a dinner party can be daunting even when you have ample time to plan. Trying to plan a party with a time crunch can seem almost impossible. You want to serve your guests the best and make the night memorable, so utilizing the best organic produce you can find in Pembroke Pines and a few handy recipes from Delicious Living you will have everything you need for your perfect party!
An Appetizer to Get Your Party Started: Artichoke Tapenade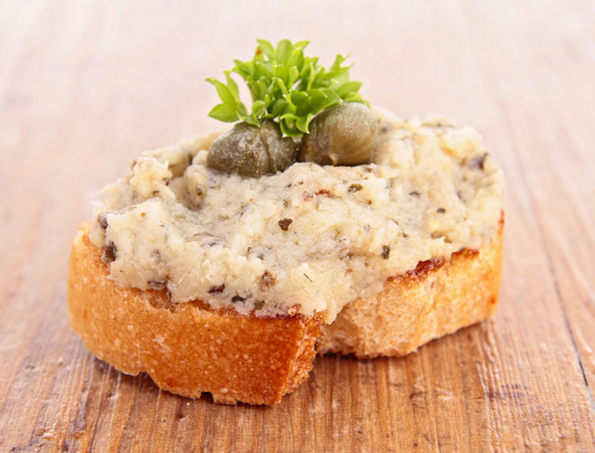 Recipe credit: Alan Roettinger
Our friends at Delicious Living outdid themselves with this recipe. You can find all of the ingredients at any organic grocery near you. This fresh, easy tapenade gets its delicious savory tang from capers, olives, garlic and fresh lemon juice. Use it as a spread on crostini or as a dip with veggies, whole-grain crackers, and any number of finger foods.
Ingredients:
1 small (about 2 ounces)baguette
1/2 tablespoon plus 1 teaspoon extra-virgin olive oil
4-5 (about 1 ounce) artichoke hearts packed in water(drained)
7 ripe pitted Green olives such as Sicilian or Moroccan(rinsed and drained)
1 clove garlic
1 teaspoon capers (rinsed and drained)
1/2 teaspoon fresh lemon juice (or to taste)
Directions:
Preheat oven to 375°. Cut baguette into twelve ¼-inch-thick slices and place on a baking sheet. Brush with ½ tablespoon olive oil and bake 10-15 minutes, until golden. Remove and cool.
Cut artichoke hearts into ¼-inch dice and set aside. Place olives, garlic, parsley, capers, and remaining 1 teaspoon olive oil in a small food processor; process until well combined. Transfer to a small bowl, add diced artichoke and mix well. Add lemon juice, plus pepper to taste. Cover and refrigerate until 1 hour before serving.
Bring tapenade to room temperature. Mound 1 teaspoon onto each crostini. Garnish with parsley and serve.
Per Serving: Serves 12. (2): 59 cals, 52% fat cal, 4g fat, 0g sat fat, 0mg chol, 1g protein, 6g carb, 0g fiber, 164 mg sodium
Apps or Main Course, Your Choice: Thai Coconut Chicken Wraps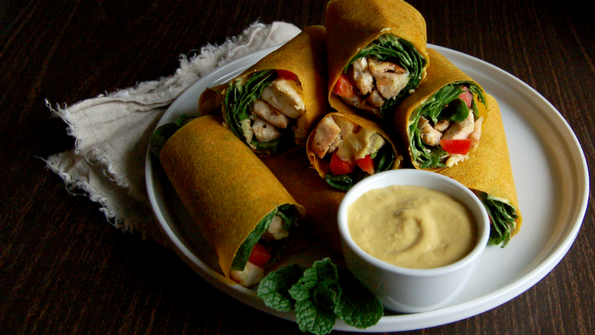 Recipe credit: Carsen Snyder
Photo credit: Carsen Snyder
This delicious recipe could work as a light main dish or an appetizer. Chicken tenders may be larger than strips, so slice if needed. If you can't find Thai coconut curry hummus, buy regular hummus and add dried coconut, curry powder and garlic powder to taste. If you like, you can substitute 1 tablespoon coconut oil and 1½ tablespoons water for the coconut milk. These wraps should be served immediately.
Ingredients:
1 tablespoon cooking oil, such as avocado oil
¾ pound chicken strips or chicken tenders, sliced to equal thinness
⅛ teaspoon sea salt
⅛ teaspoon black pepper
2 teaspoons honey
½ cup Hope Thai Coconut Curry Hummus
3-4 tablespoons full-fat coconut milk (shake can before measuring)
Juice of 1 lime
¼ cup almond butter, peanut butter or tahini
4 Nuco Turmeric Coconut Wraps (or another gluten-free wrap of your choice)
½ red bell pepper (cut into matchsticks)
2 cups baby spinach
Handful of fresh Thai basil, basil, mint or cilantro
Directions:
Heat oil in a large skillet over medium-high heat. Once hot, add chicken (don't crowd the pieces) and sprinkle with salt and pepper. Cook 3–6 minutes per side, until cooked through. Add honey and stir to coat; cook on low heat for another minute. Set aside.
In a blender, blend hummus, 3 tablespoons coconut milk, lime juice, and nut butter or tahini until smooth. If too thick, add 1 more tablespoon coconut milk. Set aside. (Makes 1½ cups.)
To assemble, spread 2 tablespoons of hummus sauce along one end of a wrap, leaving a 1½-inch border on either side. Top sauce with one-fourth of the chicken strips and 4–5 bell pepper pieces. Top with ½ cup spinach and a few leaves of fresh herbs of your choice. Fold inside edges of wrap; then roll wrap away from you until contents are fully enclosed.
Repeat process with remaining ingredients. Slice in half or into rounds, and serve with remaining sauce for dipping.
Per Serving: 375 cal, 22g fat (9g mono, 4g poly, 9g sat), 49mg chol, 155mg sodium, 16g carb (8g fiber, 5g sugars), 26g protein
A Show-Stopping Main Dish: Grilled Chipotle Chicken Kabobs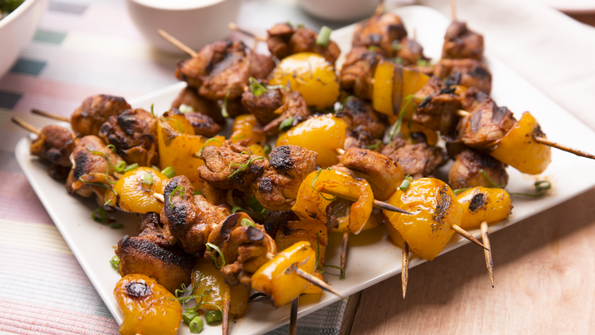 Recipe credit: Carsen Snyder
Photo credit: Jennifer Olson
Savory, delicious and great for sharing, these kabobs will be the show stopper at your next get together. Kebabs are always a popular dinner party food, grilling brings out the best in the veggies and meats. Kebabs are easy and fast to put together and always look pretty, the colors of the veggies adding accents to your dish! These simple ingredients can be gathered at any grocery store near you!
Ingredients:
2½ tablespoons ground cumin
1 tablespoon chili powder
2 teaspoons coarse salt, divided
3 cloves garlic (minced)
1 white onion (halved and sliced)
3 cups neutral oil (avocado, grapeseed or cold-pressed canola)
2½ cups white vinegar
2 limes (halved)
1 orange (halved)
1 lemon (halved)
3 pounds boneless chicken thighs (fat trimmed)
2 yellow bell peppers (cut into 1-inch pieces)
1 tablespoon garlic powder
2 tablespoons paprika
2 teaspoons chipotle powder
4 scallions (thinly sliced)
Zest of 3 limes
Directions:
To make the marinade: In a large bowl, combine cumin, chili powder, 1 teaspoon salt, garlic, onion, oil, and vinegar. Squeeze juice from limes, orange, and lemon. Add juices and fruit peels to the marinade. Place chicken thighs in a bowl, and let sit for 20–30 minutes, covered with plastic wrap.
Preheat grill to medium. While grill is heating, remove chicken from refrigerator and let come to room temperature. Remove chicken from marinade, allowing excess oil to drip off. Cut chicken into 1- to 1½-inch pieces; place in a bowl with bell pepper pieces.
To make the spice rub: In a small bowl, combine garlic powder, paprika, chipotle powder and remaining 1 teaspoon salt. Sprinkle over chicken and peppers; toss.
Thread chicken and bell pepper pieces onto skewers, alternating two pieces of chicken and one piece of bell pepper.
Grill skewers for 10–12 minutes, flipping halfway until chicken reaches an internal temperature of 165° when tested with a thermometer. Place skewers on a tray and garnished with scallions and lime zest. Serve with Chipotle Crema and Cilantro Pepita Pesto.
Per Serving (1 kabob): 135 cals, 4g fat (1g mono, 1g poly, 1g sat), 77mg chol, 258mg sodium, 3g carb (1g fiber, 0g sugars), 20g protein
A Decadent Dessert: Ricotta-Stuffed Apricot Bites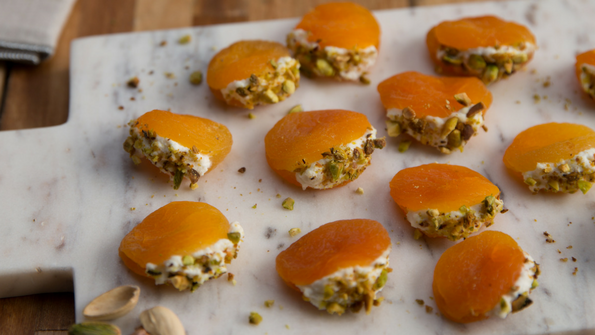 Recipe credit: Jamie Gates
Photo credit: Jennifer Olson
This dessert is so delicious and rich, your guests won't guess that it is also healthy! Not only is dried fruit delicious, but as a preservation method, it reduces food waste. Dried fruit also creates year-round harvest seasons, making for a more sustainable agriculture model for many fruit farmers. For the best quality dried fruits, be sure to check out your local natural foods stores in Pembroke Pines!
Ingredients:
30 dried apricots
5 tablespoons ricotta cheese
2 teaspoons pure maple syrup
¼ cup roasted pistachios and/or peanuts, finely chopped
Directions:
Using a paring knife, cut a horizontal slit in each dried apricot to create a pocket (do not cut all the way through). In a small bowl, combine ricotta and maple syrup.
Spoon ½ teaspoon ricotta mixture into each apricot "pocket." Flatten gently, and dip the exposed ricotta edge in chopped pistachios. If desired, secure with a toothpick. Arrange on a platter to serve.
Per Serving (1 bite): 19 cals, 1g fat (0g mono, 0g poly, 0g sat), 1mg chol, 2mg sodium, 2 carbs, (0g fiber, 2g sugars), 1g protein
With these simple, fresh, and healthy recipes from Delicious Living and quality ingredients from organic grocery stores around Pembroke Pines, you will find your dinner party coming together quickly and smoothly. Your friends will be awed by the variety and taste of your menu and you will have the satisfaction of knowing you are serving organic, healthy, food to your guests.