It's the new year, and with it comes the sacred tradition of making resolutions. Most people give up their resolutions after a few weeks. Whether it is because they slip easily back into old habits or lack the time and energy into working through their resolution, forgetting your New Year's resolution is as much tradition as making one in the first place. A common resolution for many people centers around cleaning up their eating, for weight loss, for general health reasons, or perhaps to ease the symptoms of an illness.
People avoid eating healthy for a variety of reasons, time crunch, lack of knowledge around eating healthy, or the impression that eating healthy requires frequent trips to health food stores. With the aid of Healthy Living, we can show you a few recipes that will aid you in your quest to clean up your diet. These recipes are delicious, simple to prepare, and the ingredients can be found at all grocery stores in Pembroke Pines!
Eating Healthy Never Tasted so Good!
Portobello Mushroom and Steak Salad with Blue Cheese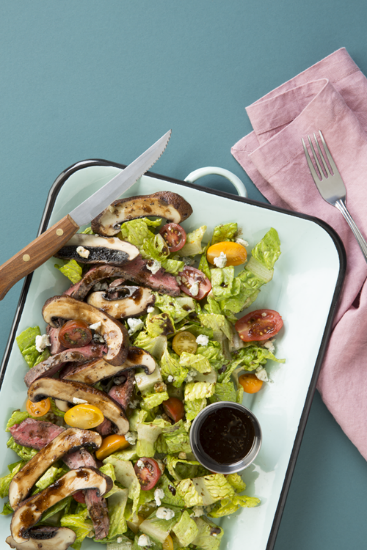 Recipe credit: Amy Palanjian
Photo credit: Jennifer Olson
When people think healthy eating, steak is generally not the first food that comes to mind. It doesn't have to be that way! You can enjoy a classic steak salad that's lighter on the steak but just as satisfying, with the smart addition of rich and hearty portobello mushrooms. This dish is also gluten and grain free for those wishing to cut those items from their diet! Best of all you don't have to track down organic grocery stores near you, these ingredients can be found nearly anywhere.
Ingredients:
¼ cup balsamic vinegar
⅓ cup plus 1 tablespoon extra-virgin olive oil, divided
1 teaspoon Dijon mustard
1 tablespoon maple syrup
1 garlic clove (grated)
¼ teaspoon salt
¼ teaspoon ground black pepper
4 large portobello mushroom caps (5-6 inches in diameter)
8 ounces flank steak
2 heads romaine lettuce (chopped)
2 cups halved cherry tomatoes
4 ounces crumbled blue cheese
Portobello Mushroom and Steak Salad with Blue Cheese
Directions:
In a small bowl, whisk together vinegar, 1 /3 cup olive oil, mustard, syrup, garlic, salt and pepper; set aside. Preheat oven broiler to high, and mist a broiler pan with nonstick spray.
Wipe mushroom caps clean with a damp paper towel, and remove stems and gills. Brush both sides of mushroom caps with remaining 1 tablespoon olive oil and sprinkle with salt; set aside.
Use a paper towel to pat the surface of the steak dry, and sprinkle both sides with salt and pepper. Place steak on broiler pan and broil steak 3 inches from the heat for 6 minutes. Turn steak over and add mushroom caps to the pan. Broil to desired doneness for the steak, allowing about 7–8 minutes more for medium rare and 8–9 minutes for medium. Remove from oven and let rest for 5 minutes.
Meanwhile, divide lettuce, tomatoes and cheese among four plates. Thinly slice mushrooms and flank steak, diagonally across the grain, and divide among plates. Top with reserved dressing.
Per Serving (¼ of recipe): 440 cal, 10g fat (4g mono, 3g poly, 3g sat), 56mg chol, 556mg sodium, 14g carb (3g fiber, 9g sugars), 22g protein
Your Taste Buds Won't Know This is Healthy!
Chicken with Mango-Cherry Salsa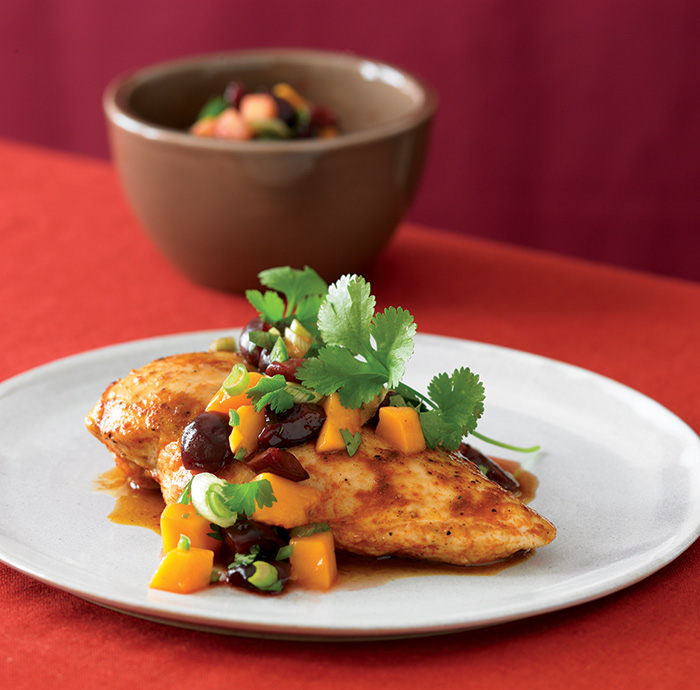 Any type of salsa pairs well with chicken breasts! This salsa, made from frozen fruit, adds a snappy flavor to easy-to-cook boneless chicken breasts. All of the ingredients can be stored in your freezer for a fast go-to healthy meal anytime you need one! Pair this main dish with any type of vegetable! Simply pick up the ingredients at any grocery store near you and store them until you need this meal. You should be warned that this dish will go fast once you have had a taste!
Ingredients:
4 boneless, skinless chicken half-breasts
2 teaspoons paprika
1 tablespoon olive oil
1 cup low-sodium chicken broth
2 cups frozen mango cubes, partially thawed and chopped
2 cups frozen pitted sour cherries, partially thawed and chopped
8 slender green onions, sliced, mostly white parts with some green
2 small Serrano peppers, seeded and finely chopped (or more to taste)
3 tablespoons coarsely chopped fresh cilantro
Juice of 1 medium lime
Pinch of salt
Fresh cilantro sprigs, for garnish
Directions:
Wash chicken breasts, pat dry, and sprinkle both sides with salt, pepper, and paprika.
Coat a large skillet with cooking spray and add oil; heat on medium. Brown chicken breasts on each side.
Add 1/2 cup of the chicken broth; cover and cook on medium heat for 4 minutes, then turn and cook until done, 8-12 minutes, depending on thickness. Add more broth if needed.
While chicken is cooking, place mango, cherries, green onions, Serrano pepper, cilantro, lime juice, and salt in a bowl; stir to mix. (Makes 2 cups.)
Transfer chicken to serving plates and top with mango-cherry salsa. Garnish with cilantro sprigs.
Per Serving (with 1/2 cup salsa): 261 cal, 19% fat cal, 6g fat, 1g sat fat, 68 mg chol, 29g protein, 25g carb, 4g fiber, 155 mg sodium
Eating Healthy Doesn't Have to Be Dull
Just because you are trying to clean up your diet, that doesn't mean that your entire year should consist of bland and tasteless meals. Healthy eating can be diverse and delicious! Eating fresh foods that are in season from organic grocery stores near you and utilizing recipes from sites such as Delicious Living and you will be well on your way to a better you in 2018!