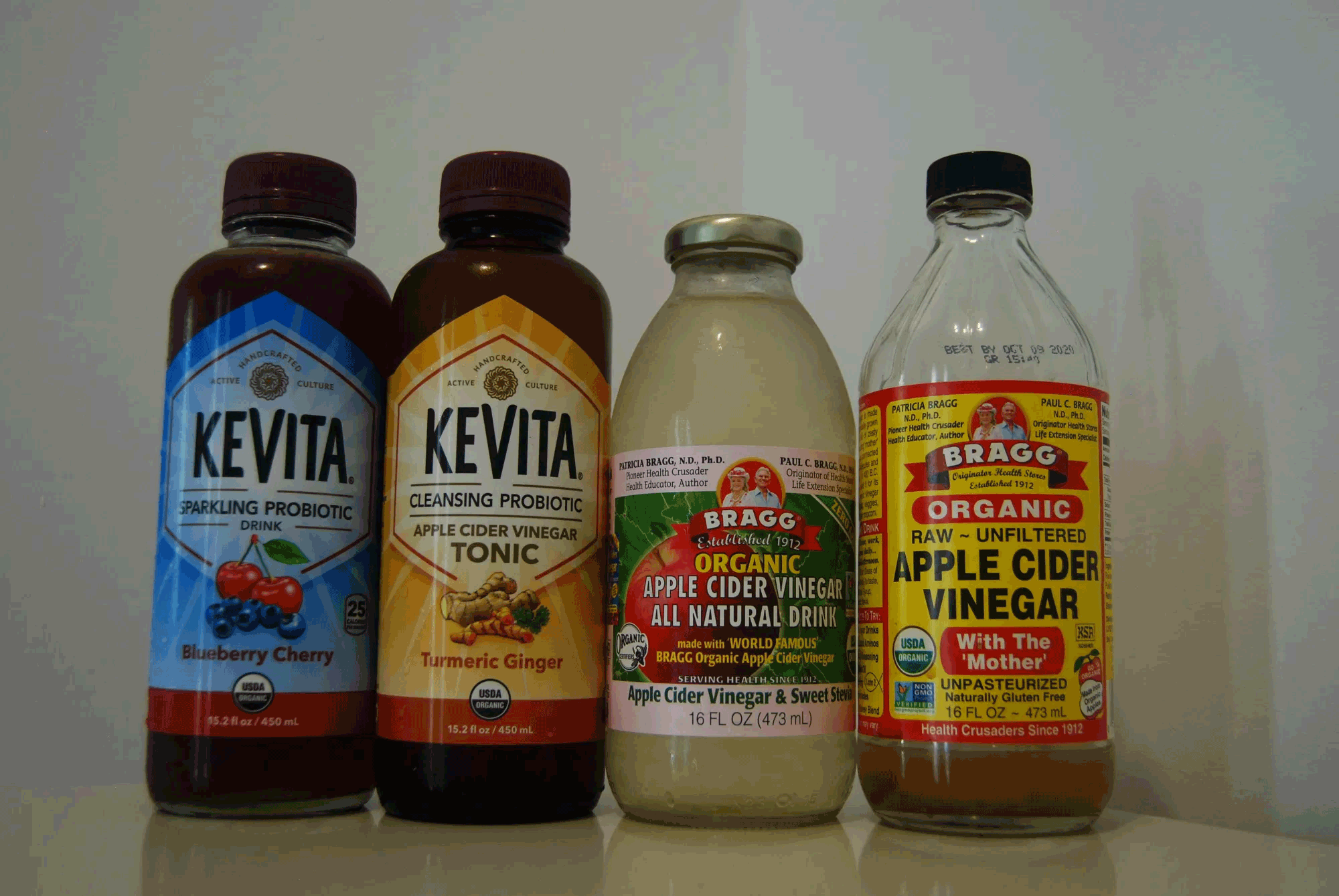 Happy Friday! It's the start to Memorial Day weekend, which means barbecues, beer & tanning by the pool (can you tell I live in Miami?). As fun as that sounds, it's important to try not to forget to throw in a few good-for-you food and drinks throughout the weekend so you don't come back to work Tuesday morning feeling sick. I know this sounds tedious, especially when all your friends are drinking beer and sugary cocktails, but I promise you it's not–not when the you can sip on some drinking vinegar.
I know, I know–vinegar is probably the last thing you actually want to drink. But wait: drinking vinegars taste nothing like a shot of the vinegar you use to clean, I promise. Brands like Kevita and Braggs are selling awesome tasting vinegars that come in great flavors like Elderberry, Concord Grape, Ginseng Mandarin and Pineapple Coconut. So instead of feeling like you're doing something good for your body, you really feel like you're just sipping on a bubbly juice cocktail–no weird taste of vinegar at all, I promise!
So what exactly are the benefits of drinking vinegars? I'm glad you asked…
Amazing for your gut: aids in digestion and is great for circulation
Help to keep your stomach acid levels in check: helps with acid reflux & helps to further break down proteins and fats
Help to clear out your lungs, which is especially great if you have a cold
Just like any other product, make sure you read the ingredients list before you purchase. You want to avoid any brands that add unnecessary add-ins like corn syrup or abnormally high levels of sugar (preferably go for those that use honey or maple syrup as sweeteners). Personally, my trusted go-to brands are Braggs and Kevita–they meet all of these requirements.
For those of you that live a bit more on the wild side, try my favorite morning drink (recipe below). I drink this every morning on an empty stomach as it helps to improve digestion, boost immunity, balance the body's pH, and even help clear up your complexion. I'm not going to lie–it's not the best tasting drink. If you really can't take the taste, add in a tablespoon of honey (preferably Manuka). Either way, this is a great way to start your day off on a positive, healthy note–which will help to lead to other healthy decisions throughout the day.
Until next week,
Lauren
LAUREN'S MORNING TONIC
1.5 cups warm water
1 tablespoon Bragg's apple cider vinegar
1/2 lemon, squeezed
Optional: 1 tablespoon honey
Warm the water, then add all other ingredients. Stir and enjoy the benefits!