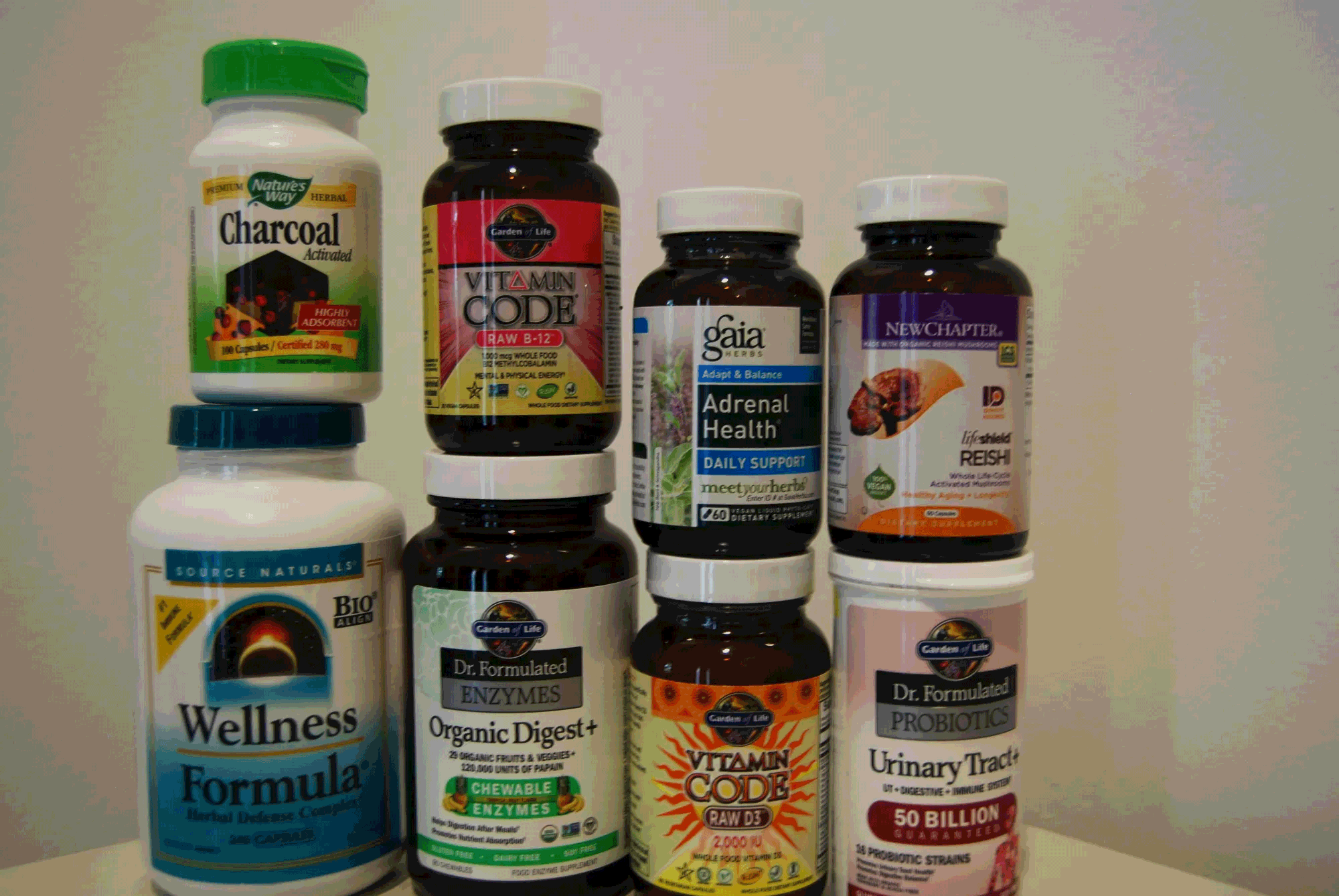 Whenever I've traveled with friends, family and boyfriends I'm always made fun of because of the "medicine bag" I bring along. Because I'm often asked exactly what vitamins and supplements I take daily, I wanted to share with you all a snapshot of what I take both morning and night. Here you go…
MORNING:
2 Gaia Adrenal Health Daily Support: Helps to keep body from adrenal fatigue
1 Garden of Life Raw B-12: For mental and physical energy
1 Garden of Life Raw D3: LADIES–many of us are naturally low in vitamin D, which can cause fatigue, muscle weakness and inability to think clearly. If these sound familiar, ask your doctor about getting on a vitamin D supplement.
2 Garden of Life Probiotics, Urinary Tract+ 50 billion strand: Great to help maintain gut health and immunity
3 Source Naturals Wellness Formula: Great to maintain immunity. If you feel like you are catching something, up the dosage to 5 twice a day.
EVENING:
2 New Chapter Reishi supplements: Great for provoking calmness, lessening anxiety; helps to sleep
2 Gaia Adrenal Health Daily Support: see above
THROUGHOUT THE DAY:
1 with each meal of Garden of Life Organic Digest +: Helps digestion after meals and promotes absorption of nutrients
WHEN I'VE EATEN BAD/CHEAT DAYS/WHEN IT'S A FRIEND'S BIRTHDAY AND I KNOW I'LL BE HAVING A FEW TOO MANY VODKA SODAS:
2 Nature's Way Activated Charcoal: I usually take these a couple hours before a big night out or after a day of eating unhealthy. Activated charcoal contains many small chambers and cavities that "capture" or bind-up unwanted materials and gas, which then quickly carries them out of the digestive system. Also helps to lessen the chance of a hangover
I know all of this seems like a lot, but I truly think that making sure your body gets what nutrients and vitamins it needs is worth the extra two minutes in the morning and night. I highly suggest if you suffer from any symptoms I mentioned above, or anything else that I may not have covered, that you talk to your doctor about testing to see what vitamins and minerals you are low in. It could be as easy as a vitamin B-12 pill once a day to cure those ailments!
What do you guys take daily?
Until next time,
Lauren