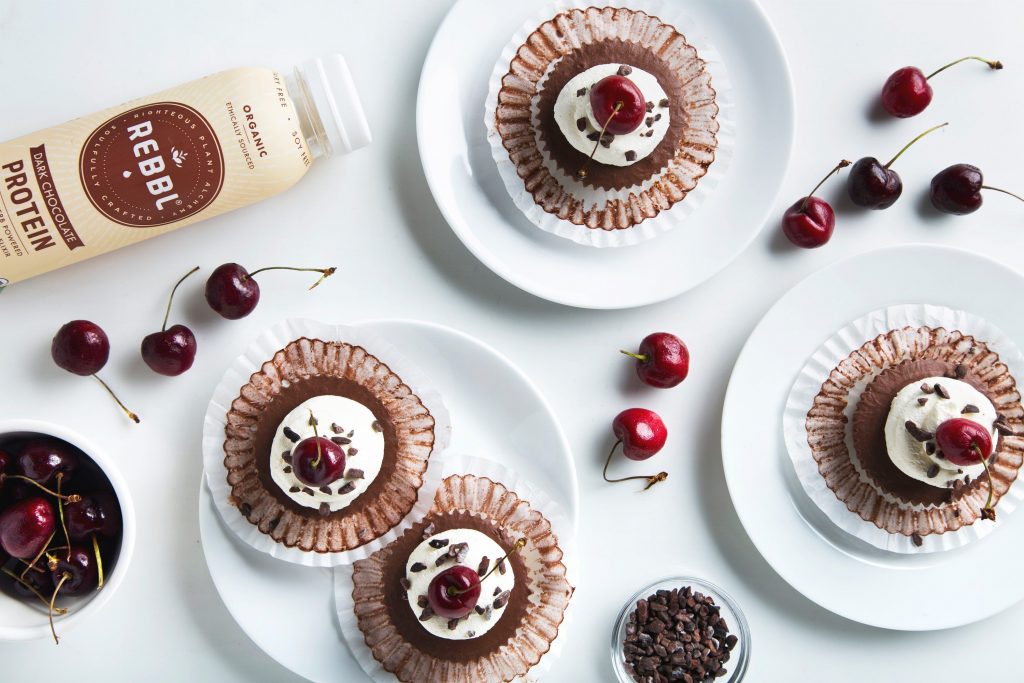 As far as cheesecake goes, this easy plant-based recipe is an indulgent, but nourishing treat. The creamy, decadent base is made with REBBL Dark Chocolate Protein Elixir, which has 16 grams of complete protein as well as super herbs and adaptogens. REBBL incorporates super herbs and adaptogens in efficacious levels: maca, reishi, and ashwagandha. The maca in REBBL's Dark Chocolate Protein supports energy levels and balanced hormones, the reishi helps with detoxification, and the ashwagandha supports endurance, cognitive function, and relaxation.
Prep Time: 20 minutes
2 hours rest
Serves: 18
Vegan
Ingredients
Crust
Filling
1 3⁄4 cups raw cashew pieces, soaked for 2 hours, rinsed and drained
12 ounces REBBL Dark Chocolate Protein
3⁄4 cup frozen cherries
1⁄3 cup raw cacao powder
¼ cup unrefined coconut oil, melted
1⁄4 cup pure maple syrup
2 Tablespoons fresh lemon juice
1 teaspoon pure vanilla extract
¼ teaspoon sea salt
Topping
14 ounce can full-fat coconut milk, refrigerated for 24 hours
2 Tablespoons organic powdered sugar
1⁄3 cup cacao nibs
18 fresh cherries
Instructions
To make the crusts, add the graham crackers to a food processor and pulse until finely ground. Add in the melted coconut oil and pulse a few more times to combine.
Line muffin tins with 18 cupcake liners. Add a heaping Tablespoon of crust mixture to each. Use a small glass to tightly pack it down into an even, flat layer.
Repeat for the other tins. Set aside while you prepare the cheesecake filling.
Add all of the filling ingredients to a high-speed blender. Process for 1-3 minutes, or until the texture is very smooth. Pour the filling evenly over the crusts there should be about ¼ inch of the cupcake liners showing at the top). Freeze until firm, approximately 2 hours.
To make the coconut whipped cream, open the can of coconut milk and scoop out the top layer of solid coconut cream into the bowl of a stand mixer, or use an electric hand mixer. Mix the coconut cream and powdered sugar on low speed until combined, then at high speed for one more minute until light and fluffy.*
For best and creamiest texture: Allow the cheesecakes to soften slightly (about 10-15 minutes) before serving. Top each with coconut whipped cream, a sprinkle of cacao nibs, and a fresh cherry. Want something simple, indulgent, and decadent? This is just the thing.
Note: Save the remaining coconut liquid for smoothies! Leftover coconut whipped cream can be stored in a container in the fridge for 5-7 days. The whipped cream will harden when cold, just mix it on high speed until it's light and airy again before using.