Turkey Burger Lettuce Wraps
It's the perfect time of year to bring together family and friends, fire up the grill, and whip up everyone's favorite dish. Pair these amazing turkey burger lettuce wraps with pineapple slices and fresh cilantro for a true seasonal feast packed with mouthwatering flavor! Whole30 and Paleo-approved, it's hard to go wrong with this Rockstar list of ingredients.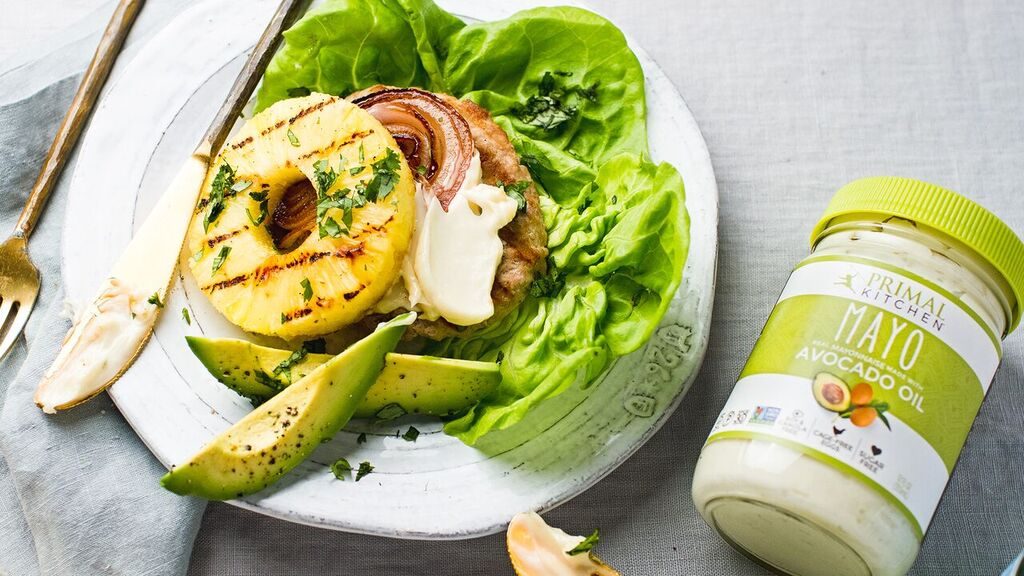 Prep Time: 50min
Serves: 4
Gluten-Free
Ingredients:
4 pineapple rings
Sprinkle of chili pepper (optional)
1 Tablespoon of coconut oil
1 medium red or yellow onion, peeled and thinly sliced
1 Tablespoon coconut aminos
4 Applegate Organics Turkey Burgers
1 head of butter lettuce (torn into individual leaves)
1-2 avocados, peeled and sliced
4 heaping Tablespoons of Primal Kitchen Classic Mayo (garnish)
Cilantro (garnish)
Instructions:
For a hot and sweet wrap, dust each pineapple ring with chili pepper.
Coat a cast iron skillet with coconut oil and sear each pineapple ring until it is warmed through and begins to caramelize ( about 3 minutes per side) Set aside.
Add the sliced onions and coconut aminos to the skillet, and grill the onions until they're soft and translucent (about 10 minutes). Set aside with the pineapple rings.
Grill each turkey burger patty until its fully cooked through ( 5 to 6 minutes per side)
Arrange the lettuce leaves on a platter. Stack a turkey burger patty, pineapple ring, onions and generous serving of avocado and mayo inside each leaf.
Garnish each patty with cilantro
Enjoy!