Bacon Wrapped Hot Dog Bites
It's time to up your hot dog game. Wrap your Applegate Hot Dog Bites in salty strips of bacon, sprinkle them with fresh garden parsley, and serve them up with savory, mouthwatering Primal mayo-ranch dip! Perfect as a game day appetizer, Labor Day delight, or BBQ starter, these Bacon Wrapped Hot Dog Bites are sinfully good and Keto-friendly!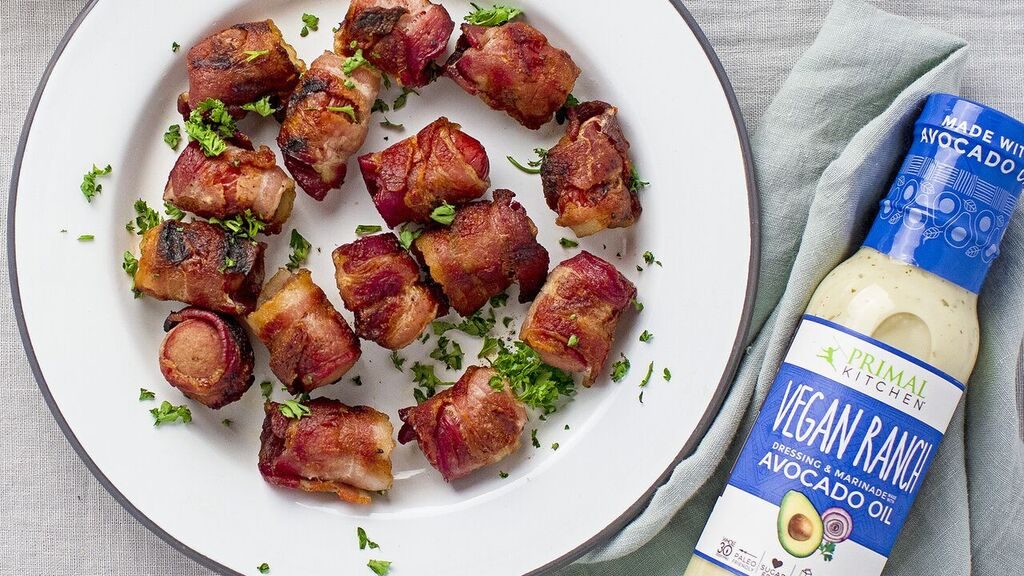 Prep Time: 45 min
Serves: 4 to 6
Gluten-free
Ingredients:
1 package of Applegate Organics Uncured Beef Hot Dogs
1 package of Applegate Naturals No Sugar Bacon
1/2 cup Primal Kitchen Classic Mayo
4 Tablespoons Primal Kitchen Vegan Ranch Dressing
1/2 cup of fresh parsley, minced (optional garnish)
Instructions:
Quarter hot dogs and wrap each piece with 1/4 slice of bacon
Fire up your grill ( or use a cast iron skillet) and grill each piece until fully heated through and bacon is crispy.
While your hot dogs are grilling, mix together mayo and ranch dressing until well combined.
Arrange the grilled hot dogs on a platter, garnish with a sprinkle of fresh parsley, and serve with your zesty mayo-ranch dip.
Enjoy!